The Lions debate: who should go based on the stats?
Every four years, rugby fans debate which players deserve a place in the British & Irish Lions.
While discussing the selection in three different WhatsApp groups, I found myself haphazardly pulling in stats from the Six Nations site. But I wished there was an easier way to see the data, so I ended up creating this interactive tool that allows you to compare the stats for the players in each position.
To make things easier, I've pulled out a number of the key insights for each position in the write-up below. But I'd also encourage you to play around with it and see what else you can find.
So what do the stats have to say?
number [8]
Will CJ set the Stander? Faletau can't be far off, but they might leave Billy behind
The number 8s from all four countries clearly offer a threat in attack, with Billy Vunipola, Matt Fagerson, CJ Stander and Taulupe Faletau all breaking 6 to 8 tackles in this year's Six Nations.
Vunipola looked a little handier with 4 offloads to Stander's 2, with none for Faletua and Fagerson.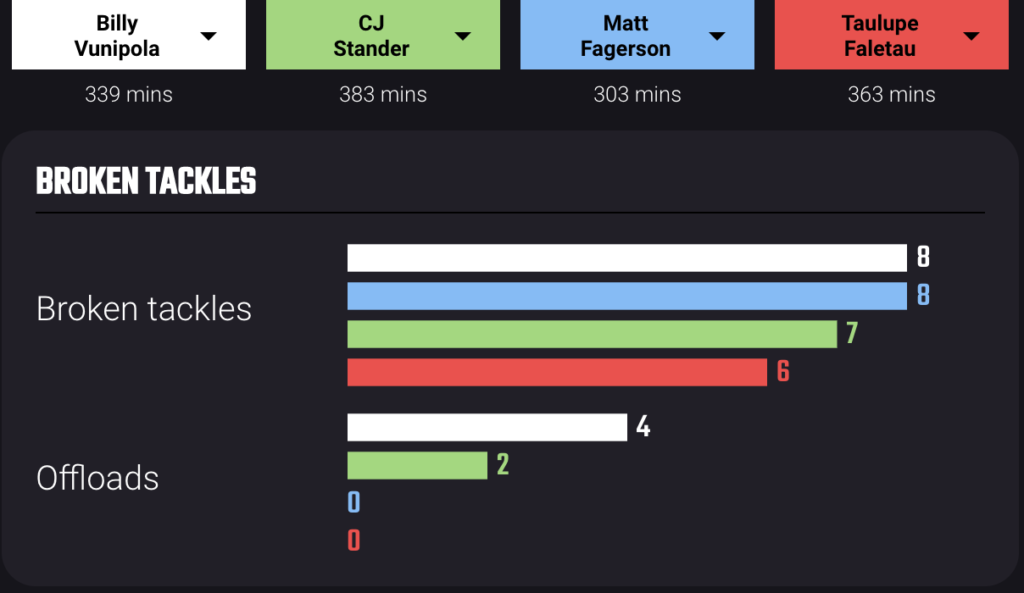 Faletau and Stander covered more ground in attack with 370 and 355 metres made to Vunipola's 275.
Stander and Faletau were more heavily involved in the game, playing the ball by hand 94 and 80 times respectively to Vunipola's 65.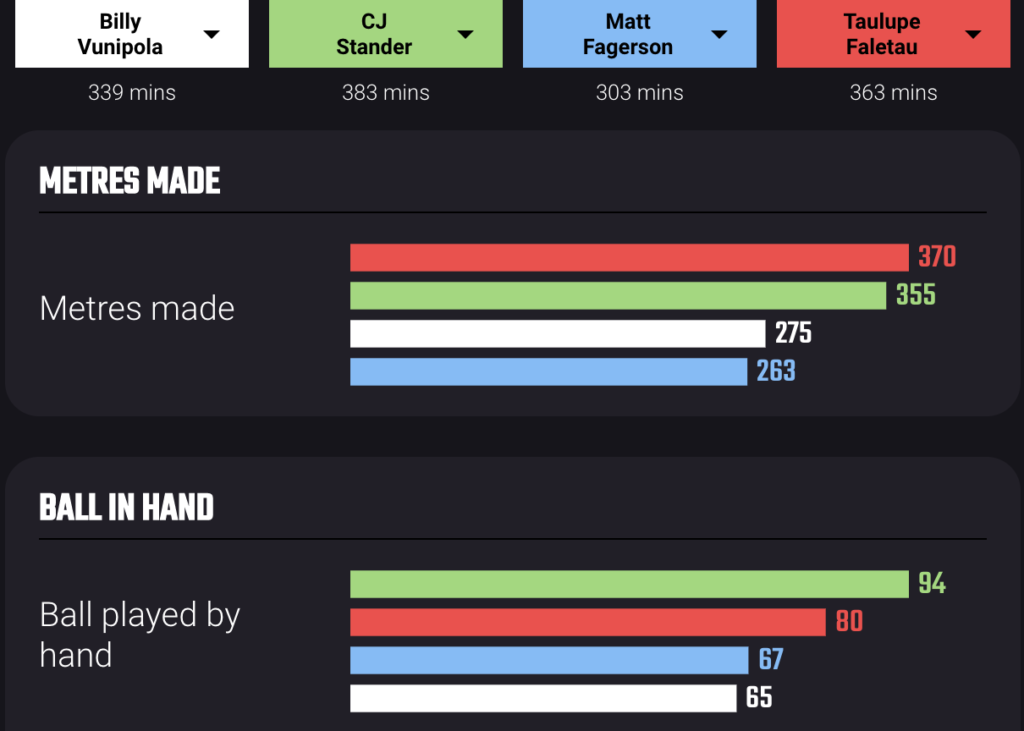 Faletau showed an incredible work rate in defence, making 77 tackles to Stander's 44 and Vunipola's 32.
However, Faletau also let more players through his grasp, missing 11 (12.5%) of his tackles, to Vunipola's 4 (11%) and Stander's 3 (6.3%).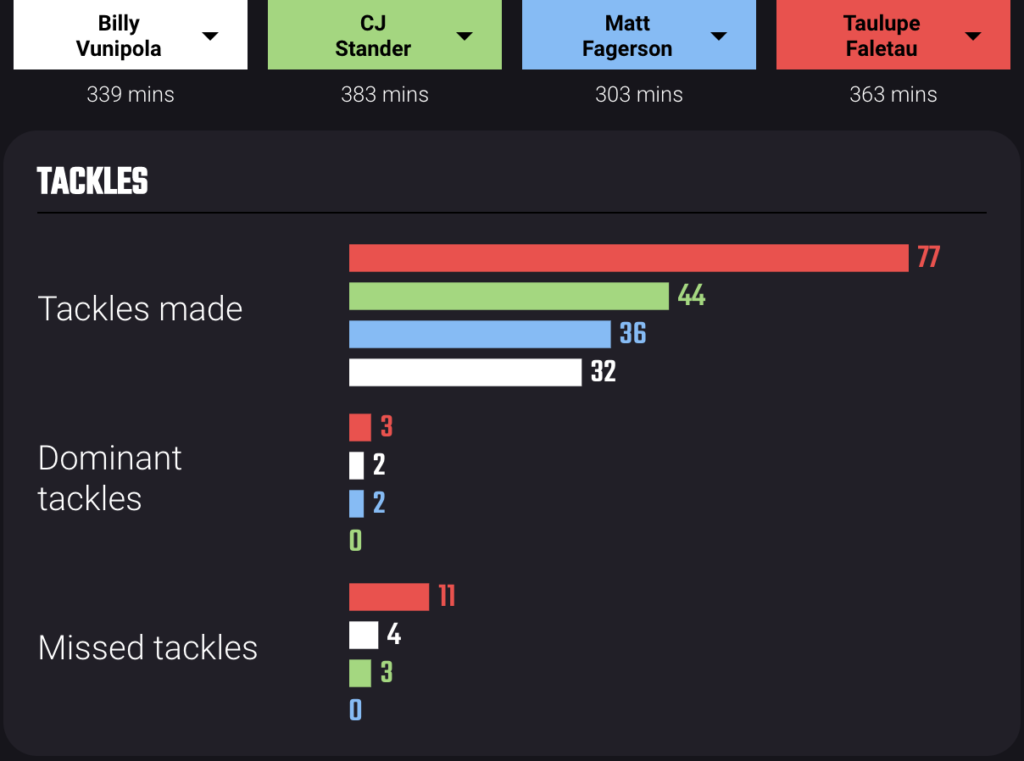 Stander proved adept at regaining possession, winning 5 turnovers and stealing 2 lineouts, with Vunipola and Faletau managing just 1 turnover and winning 1 of their own lineouts, but stealing none.

Stander showed the most discipline, losing only 1 penalty to Faletau & Vunipola's 2, and no yellow cards compared to 1 each for the Welsh and English number 8s.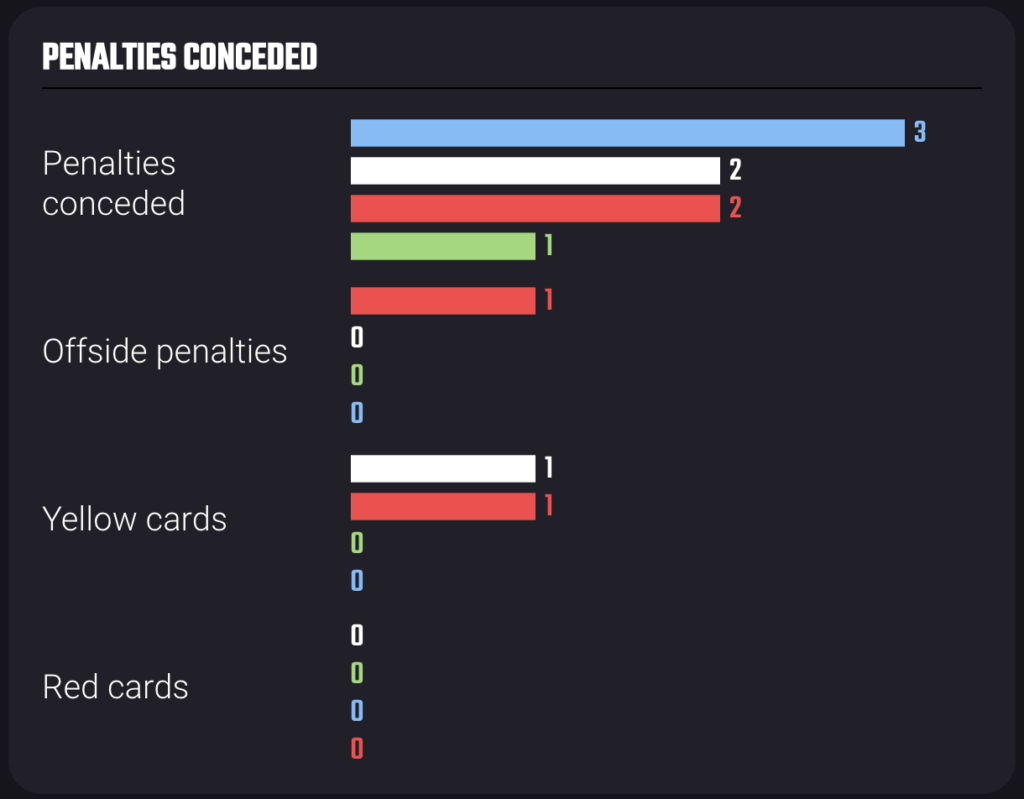 [7] flanker
'Mish in impossible form
Hamish Watson showed great strength in attack carrying the ball 67 times to make 321 metres, compared to Tom Curry's 41 carries for 217 metres and Justin Tipuric's 23 for 112.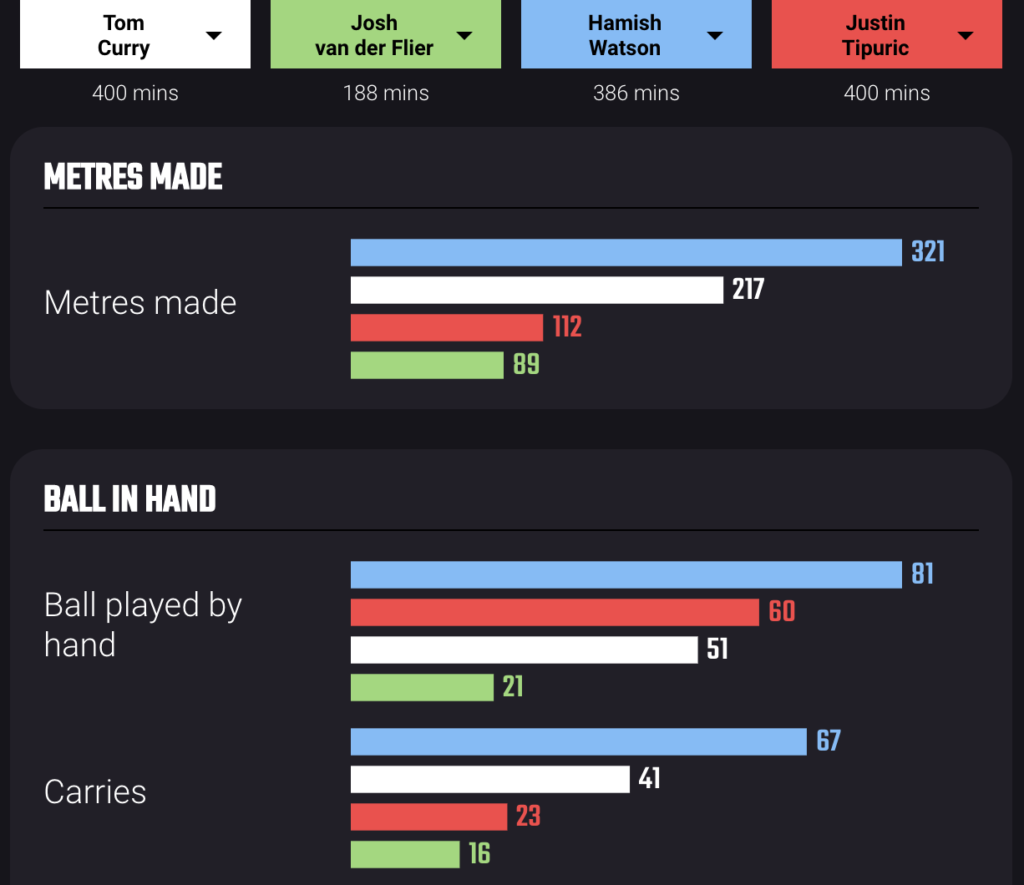 Watson was also the only openside flanker to get on the scoreboard with 1 try and 1 assist.
However, over on the blindside, Tadhg Beirne touched down twice and Josh Navidi crossed the line once and set up 2.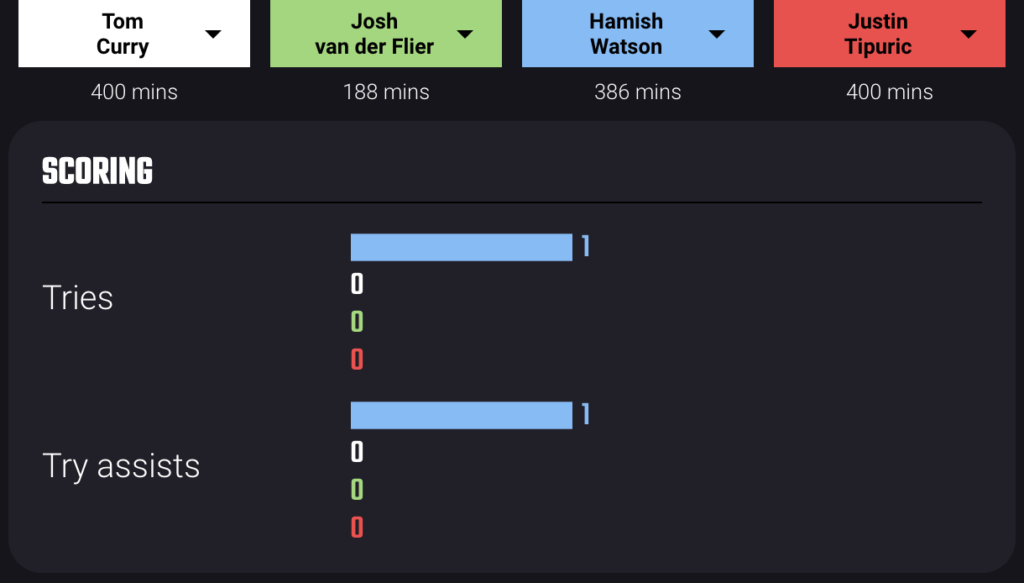 Proving difficult to stop, Watson broke through 14 tackles to Curry's 8, both managing to offload twice. Whereas Tipuric only broke through 1 tackle in 400 minutes of play and made no offloads.
Watson broke more tackles than any other forward in the tournament, and was only surpassed by his Scottish teammates Stuart Hogg with 20 and Duhan van der Merwe who broke a massive 32 tackles.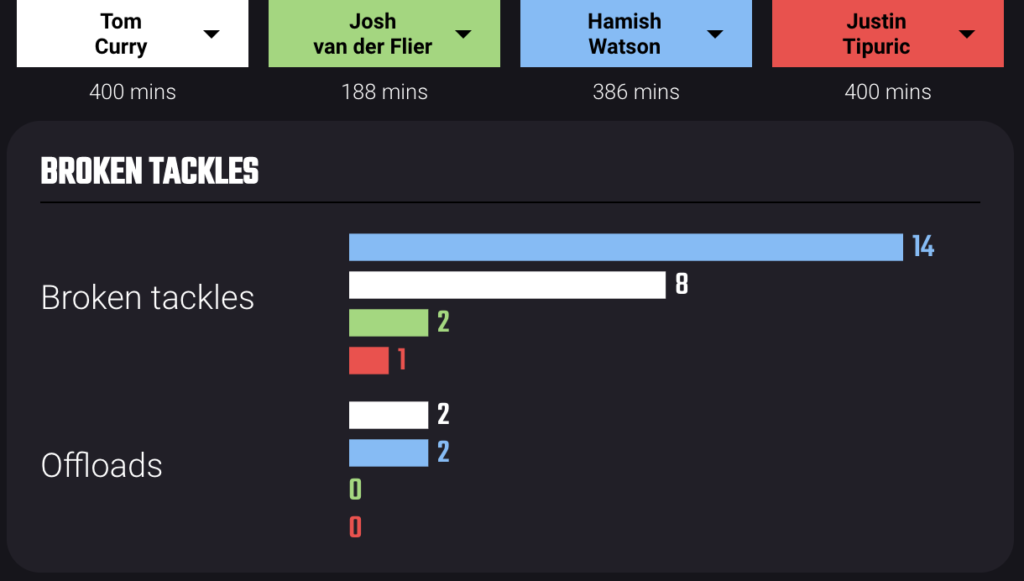 All the openside flankers look comfortable on the ball with no knock ons from any of them, and only 1 handling error from both Watson and Tipuric and 2 from Curry.
Tipuric showed a phenomenal work rate in defence making 86 tackles (and only missing 2), compared to Curry's 63 and Watson's 55.
However, Curry missed 11 (15%) of his tackles, compared with Tipuric's 2 while nobody got past Watson.
When he does make the tackle though, Curry exerts his strength with 7 dominant tackles to Watson's 5 and Tipuric's 4.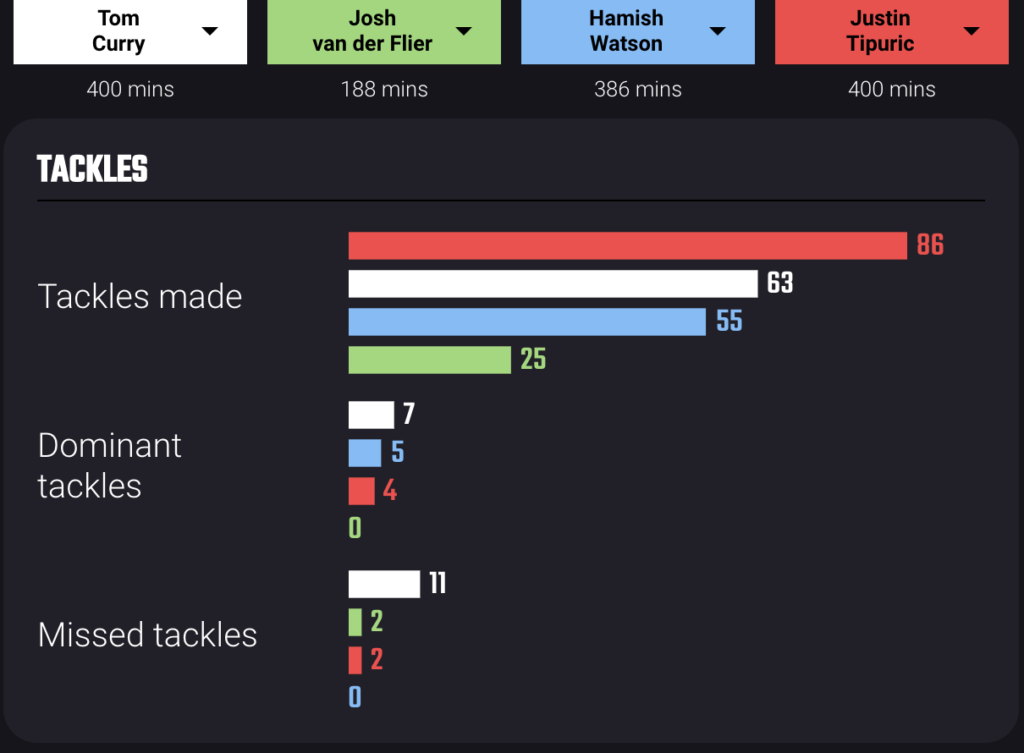 The game could swing in the turnover, with Watson and Tipuric turning the ball over 4 and 3 times each to Curry's 1. And on the flip side, Curry conceded 6 turnovers to Watson's 3 and Tipuric's 2.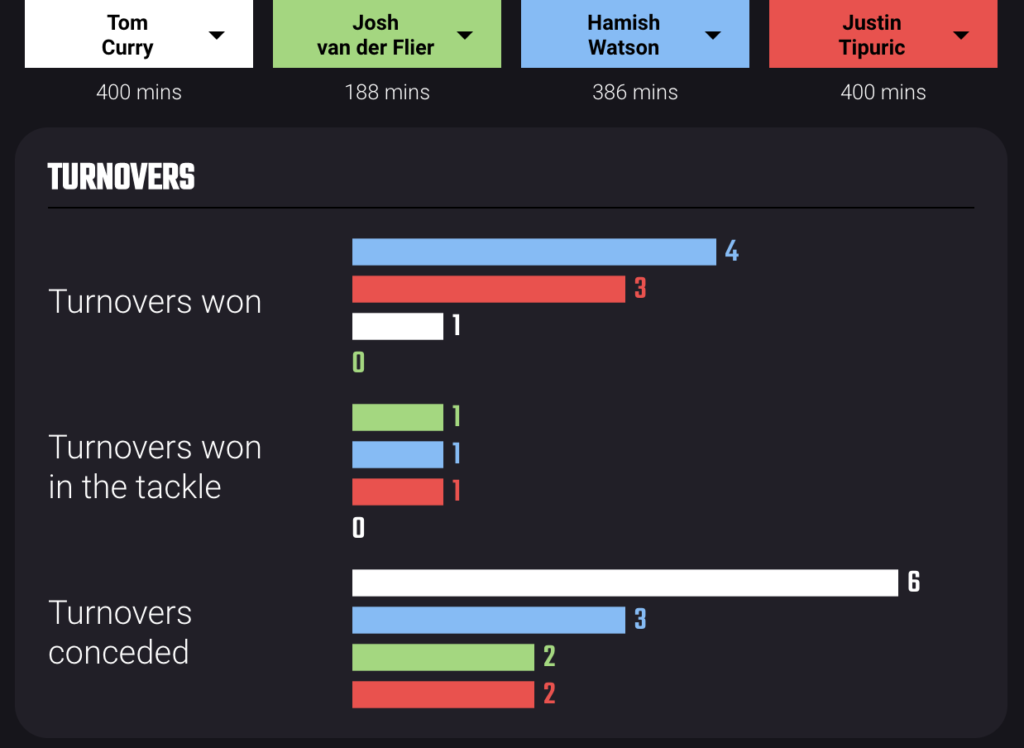 Tipuric offers a great option in the lineout, winning 11 of Wales' throw-ins and stealing 1 from the opposition, with Curry winning 2 and Watson not featuring in the air at all.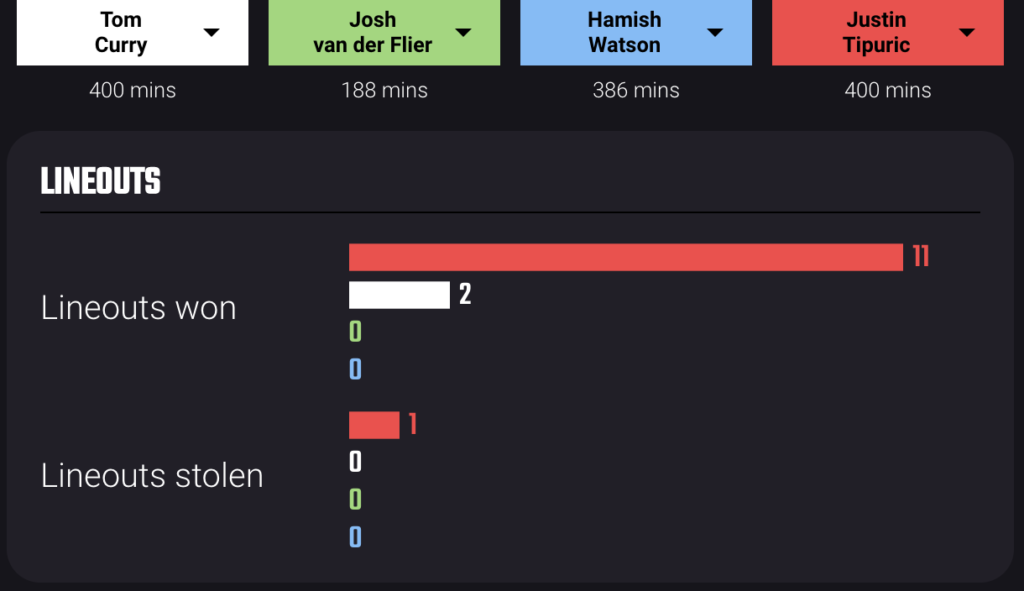 The number 7s kept it clean throughout the Six Nations with no cards between them.
Watson and Tipuric showed incredible discipline, with the Scotsman conceding no penalties in 386 minutes of play and the Welshman only giving away 1 in 400 minutes on the field, while Curry gave away 6.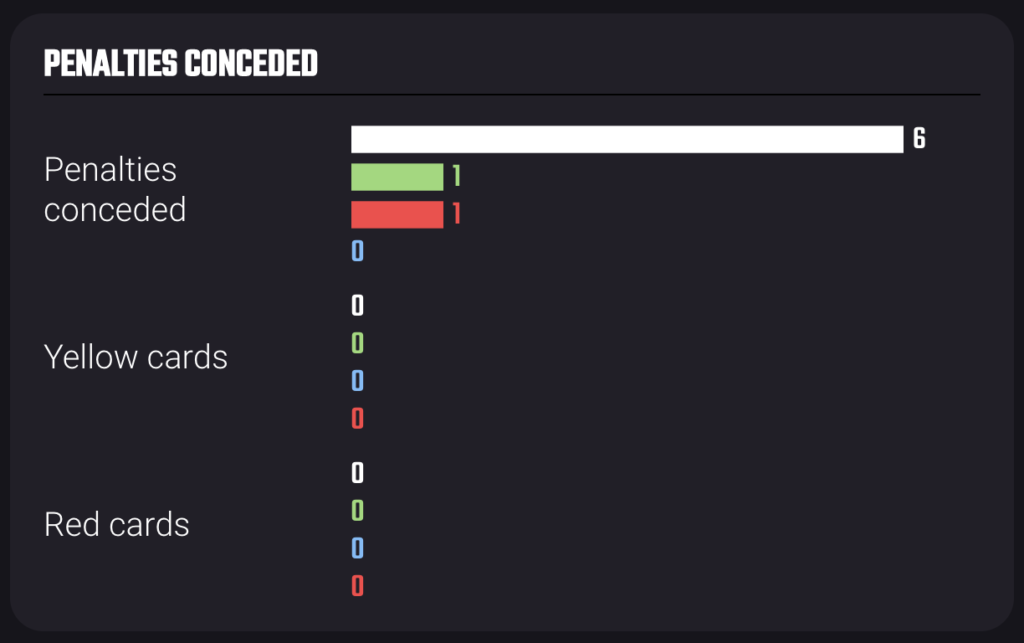 [6] flanker
Beirne and Curry serve up different options
Starting two games at 6, two at 4 and one at 5, Tadhg Beirne would be a versatile addition to any squad.
Although Tom Curry started all the Six Nations matches at 7, many fans place him in their lineup at 6 with Hamish Watson at 7.
Sam Underhill was absent from this year's Six Nations, but remains in contention for a place on the tour.
Both Curry and Beirne look strong in attack with 217 and 215 metres made respectively, compared to the 178 metres Jamie Ritchie covered, with Josh Navidi lagging at only 88 metres.
Beirne's name appeared on the scoreboard twice, while Curry's did not. And Navidi touched down once and assisted in another 2 tries.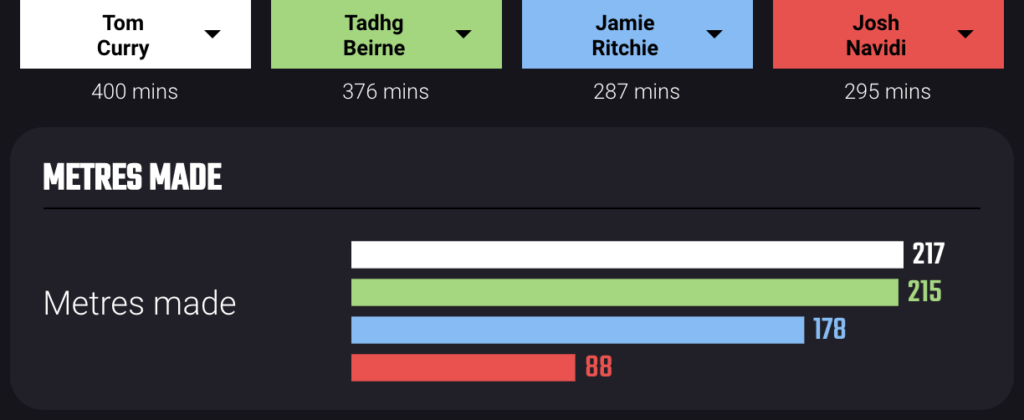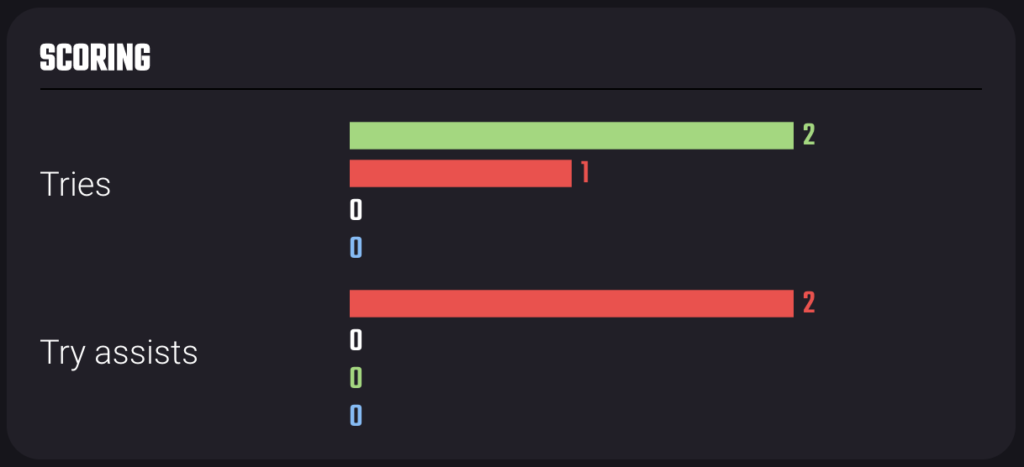 Beirne was involved in the action more often with 78 plays by hand to Curry's 51, Ritchie's 48 and Navidi's 40.
Curry showed greater strength with ball in hand, breaking through 8 tackles to Beirne's 4.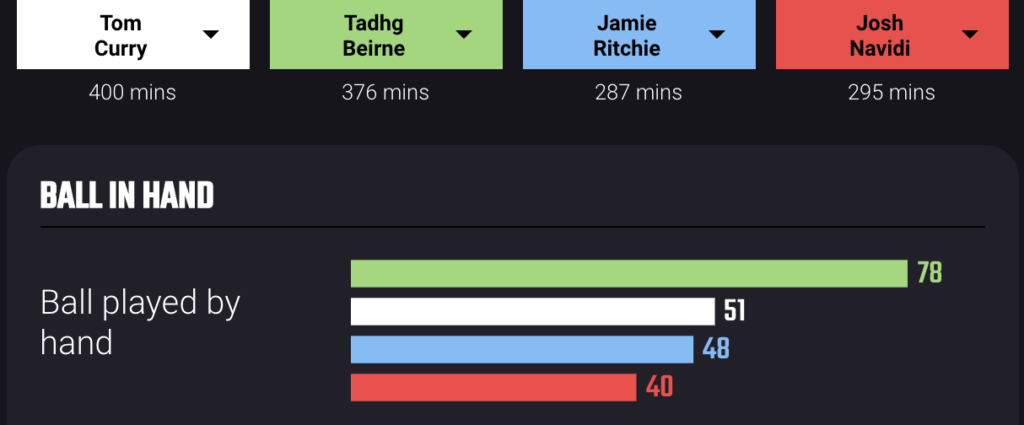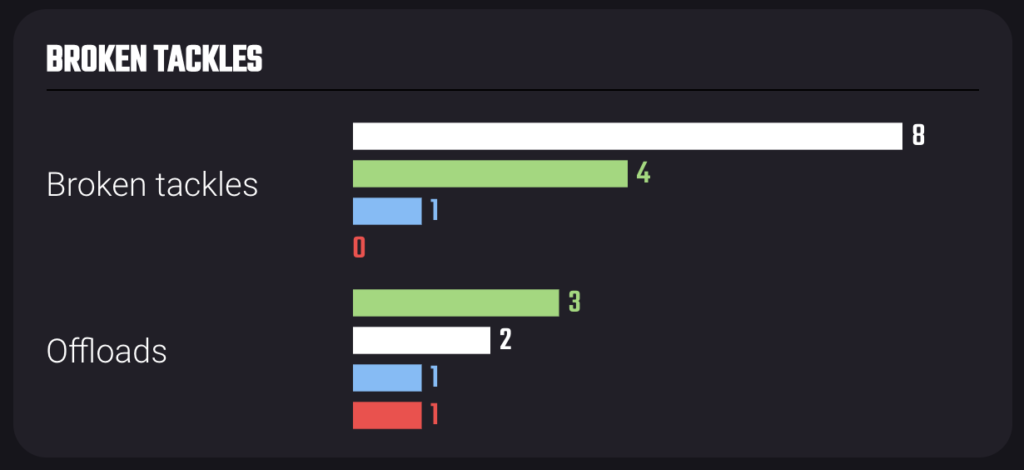 Beirne offers more in the turnover and the lineout, winning the ball 10 and 13 times to Curry's once and twice.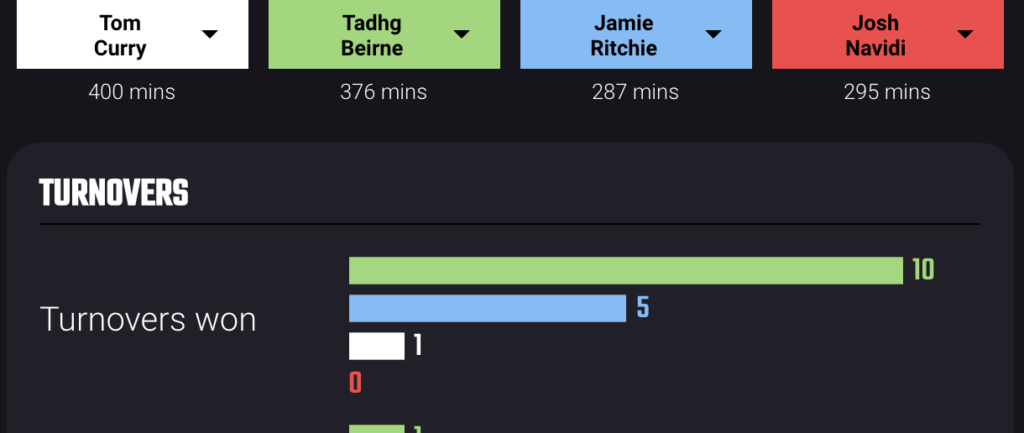 Curry conceded twice as many turnovers as Beirne, losing the ball 6 times to the Irishman's 3.
But Beirne made 5 handling errors and 1 knock on where Curry made 2 and 1. Ritchie was the safest pair of hands on the blindside flank, with no handling errors or knock ons.


Josh Navidi showed great consistency in defence, making 69 tackles and missing only 3, while Curry made 63 and missed 11. Not quite as involved this time round, Beirne made 38 tackles, but missed only 2.
Curry and Navidi showed greater strength with 7 and 5 dominant tackles, while Beirne didn't drive back anyone.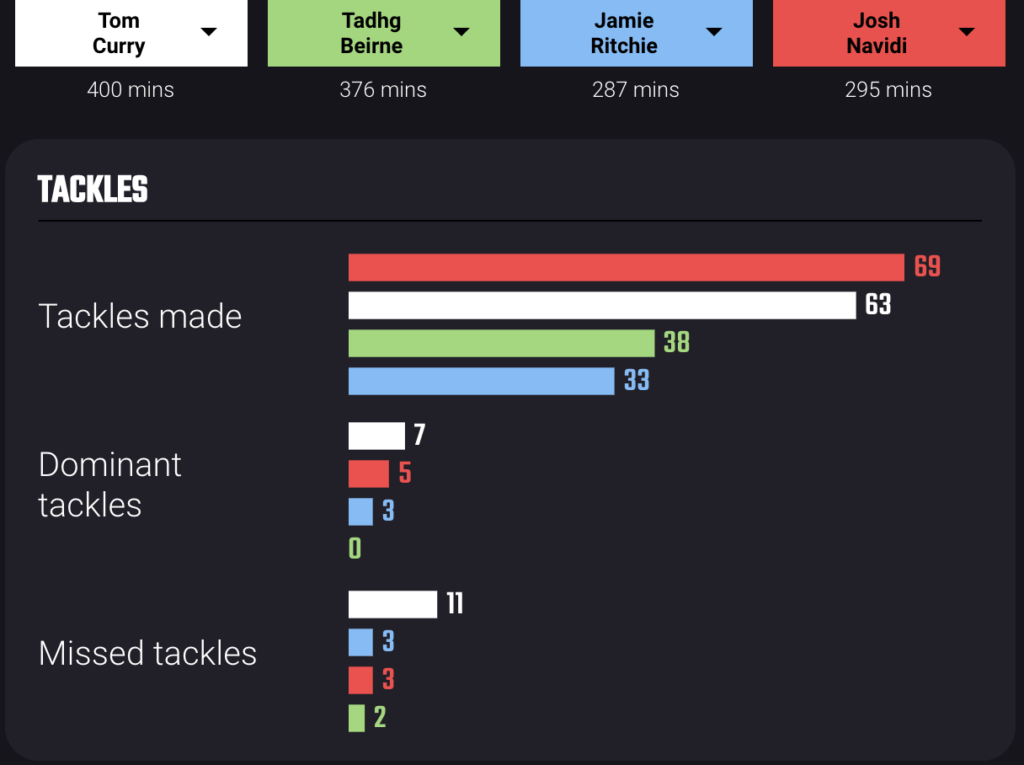 Navidi showed more discipline, conceding only 3 penalties all tournament to Beirne's 7 and Curry's 6, with no cards for any of them.
[5] second row
Alun Wyn Jones seems set for captain, but the numbers look good for Gray
Alun Wyn Jones played the ball in hand 43 times, carried it 34 times and made 121 metres.
Jonny Gray was just behind each time, playing the ball by hand 37 times, carrying it 28 times and making just 10 metres less.
However, Gray only played for 215 minutes in the Six Nations compared to Wyn Jones' 365 minutes on the field.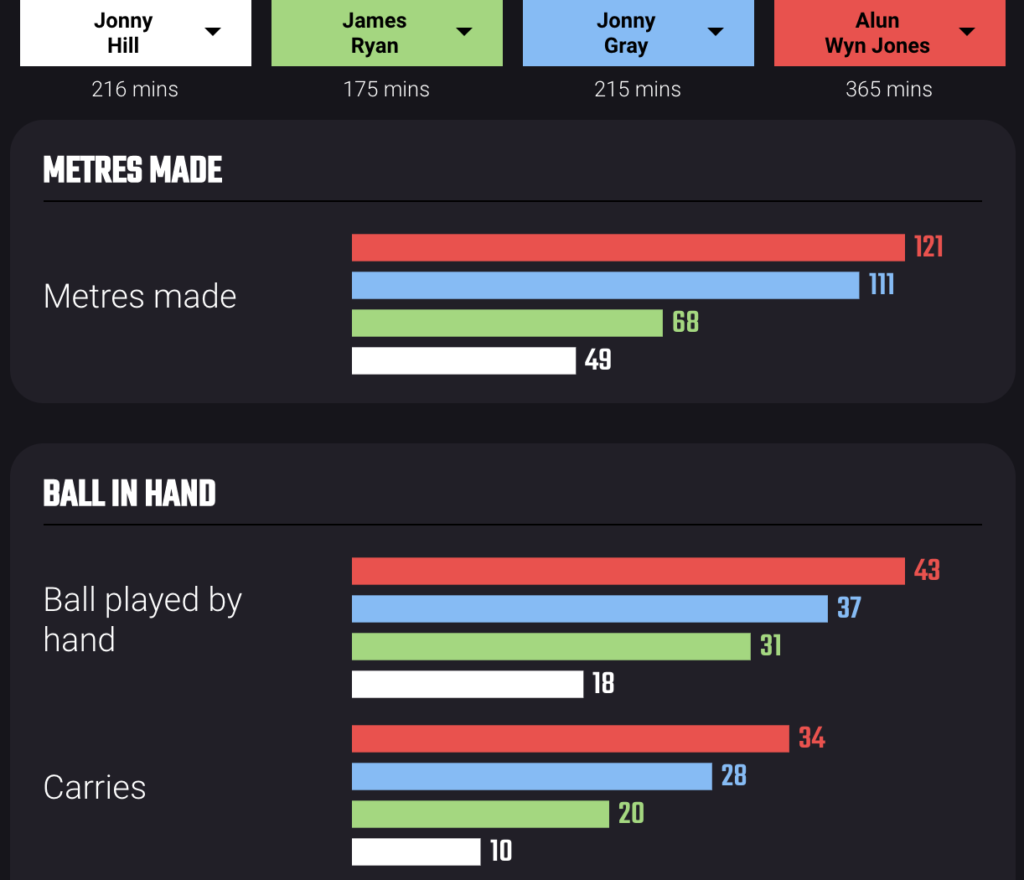 Gray broke through 3 tackles, while Wyn Jones didn't break through any, but the Welshman did hand the ball off twice, where Gray did not.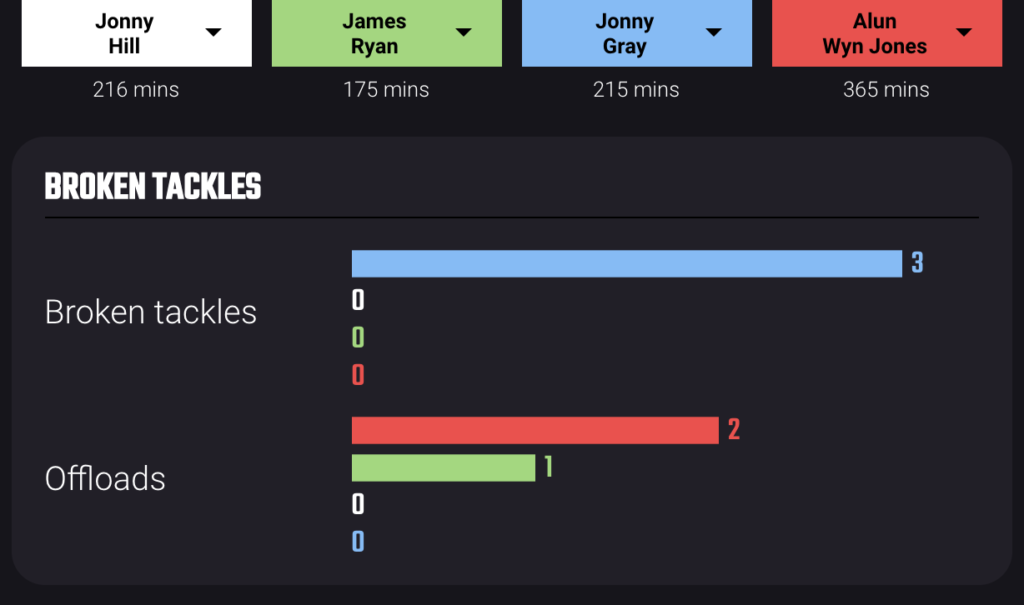 In defence, Wyn Jones was everywhere, making 75 tackles, 5 of them dominant, and only missing 4 (5%). Gray made almost half as many tackles as Wyn Jones, with 38, but he was only on the pitch for 58% of the time that the Welshman was.
Gray didn't miss a single tackle (compared to Wyn Jones's 4), but he also didn't drive anyone back, which Wyn Jones did on 5 occasions.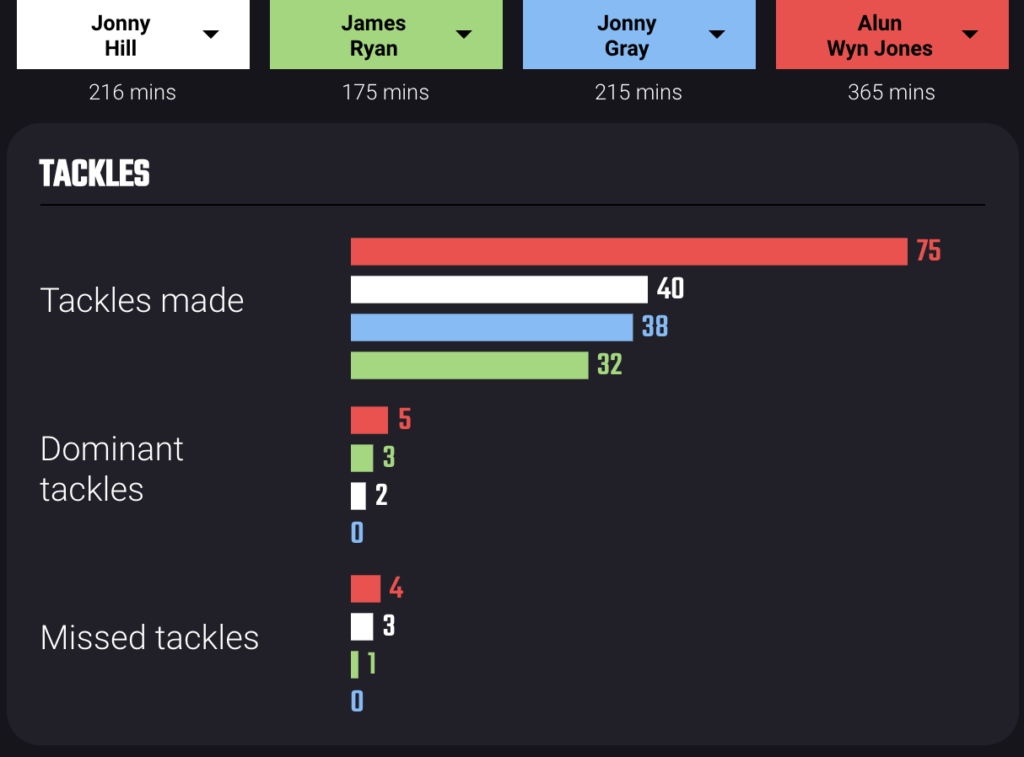 In the turnover, James Ryan won 3 and conceded only 1, while Wyn Jones won 2 and gave away 1. Gray also won 2 turnovers but was a little more susceptible to being turned over himself, conceding 3.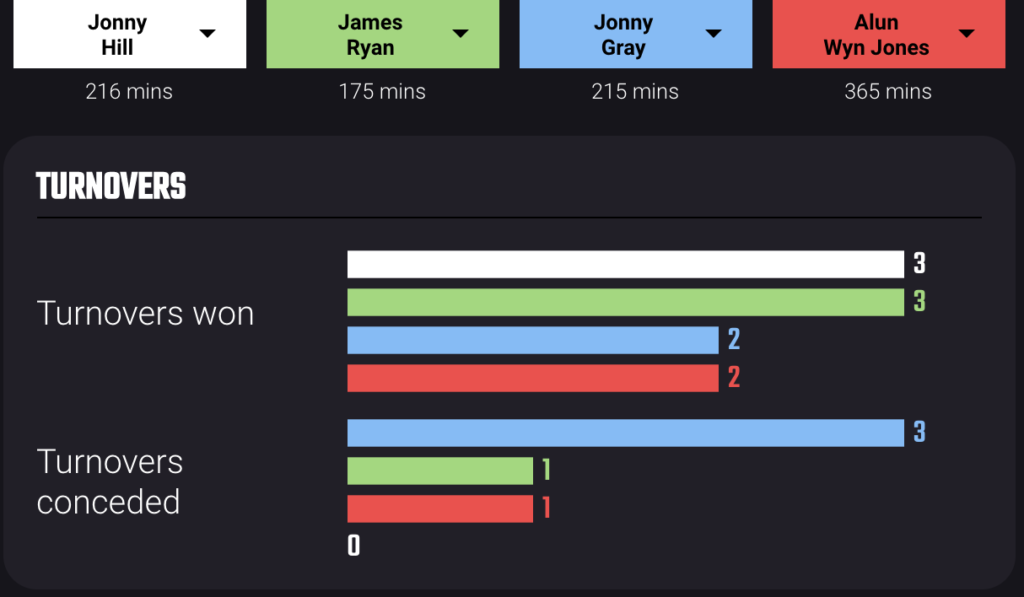 In the lineout, Ryan was the most impressive with 6 won and 3 stolen from the opposition. Gray also won 6, but stole only 1. And Wyn Jones was less prolific in the air, winning only 3 and stealing once.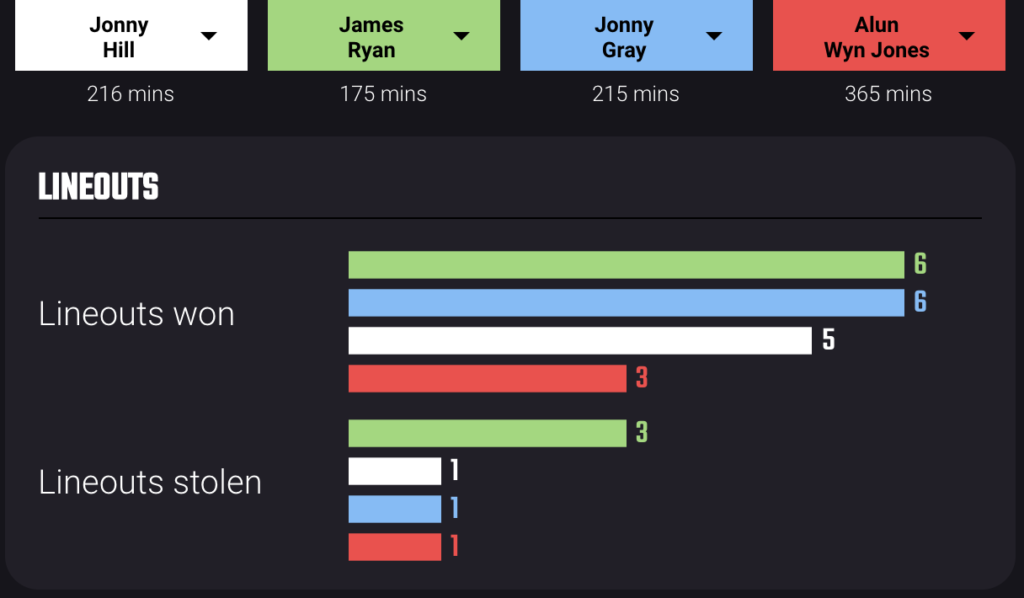 Wyn Jones was more likely to cough up the ball with 2 handling errors and 1 knock on, compared with none for Gray, and 1 of each from Ryan.
The Welshman also showed a bit less discipline than the other locks, giving away 6 penalties to just 1 a piece from Gray and Ryan.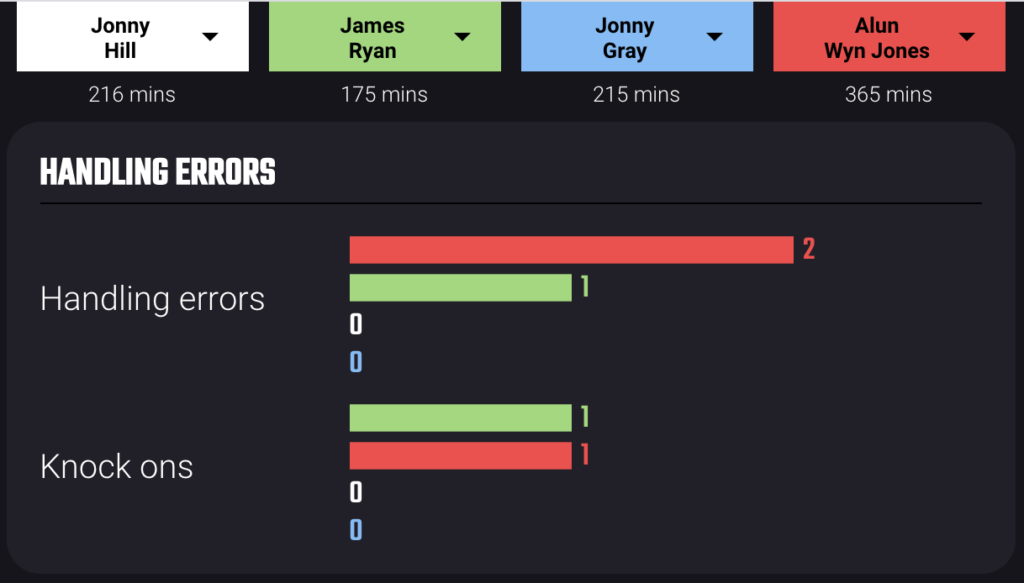 [4] second row
Iain Henderson showed strength in attack with 33 carries over 126 metres, compared to Maro Itoje's 25 over 88.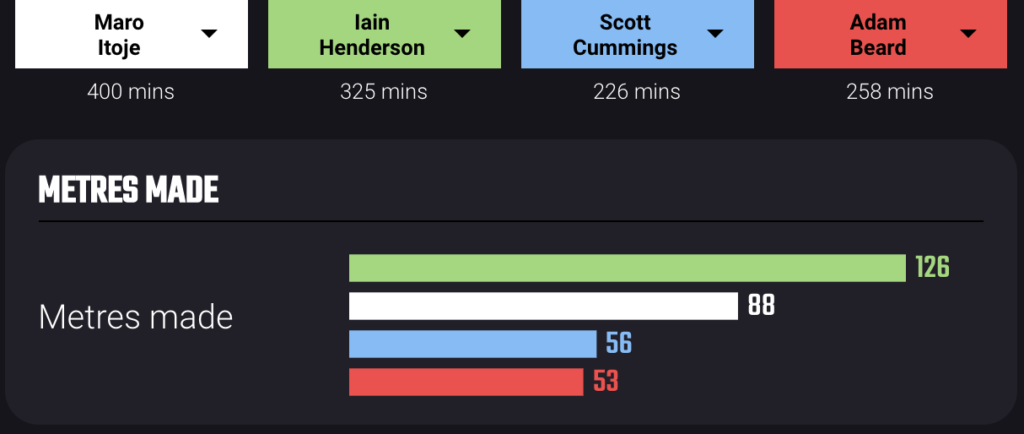 The Irishman played the ball by hand 50 times to Itoje's 35, and broke through 5 tackles while Itoje escaped only 1.
And that's all with Henderson playing almost an entire game less than Itoje (325 minutes compared with 400).


Itoje did make it onto the scoreboard, however, while Henderson did not.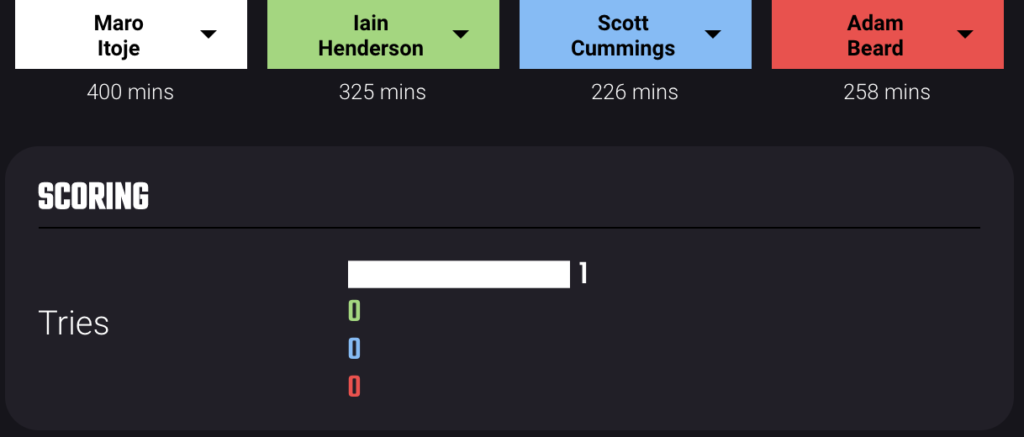 Itoje was clearly stronger in defence with 58 tackles, 6 dominant and 5 (7.9%) missed, compared to Henderson's 41 tackles, only 1 of them dominant, and 7 (14.6%) missed.
Itoje was the only forward in the Six Nations to make more tackles than his opposite number for Wales, making 58 to Adam Beard's 31 – even accounting for time on the field, Itoje still had a higher hit rate.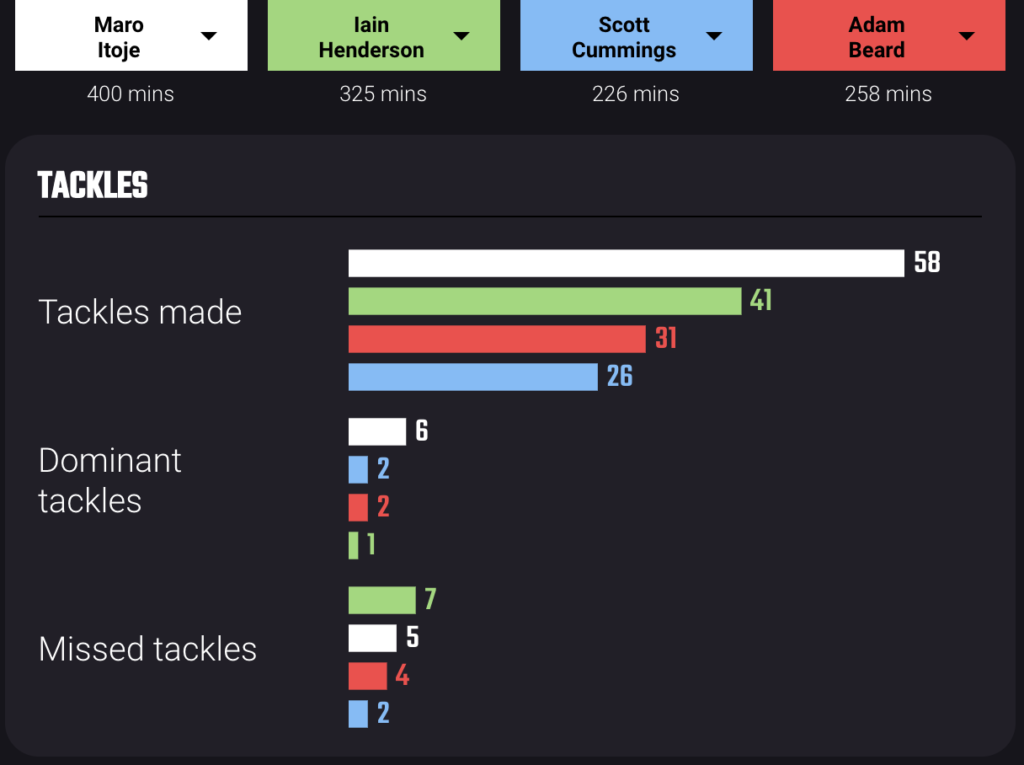 Both Itoje and Henderson offer a strong option in the lineout, winning the ball 10 and 15 times in the air respectively.
And both are comparable at the breakdown, with Henderson winning 6 turnovers and Itoje winning 5.


When it comes to giving the ball away, Henderson is more likely to fumble, with 5 handling errors and 2 knock ons, while Itoje handled the ball cleanly throughout.
Itoje, on the other hand, is more likely to concede turnovers (5) and penalties (12), whereas Henderson gave away only 3 turnovers and not a single penalty.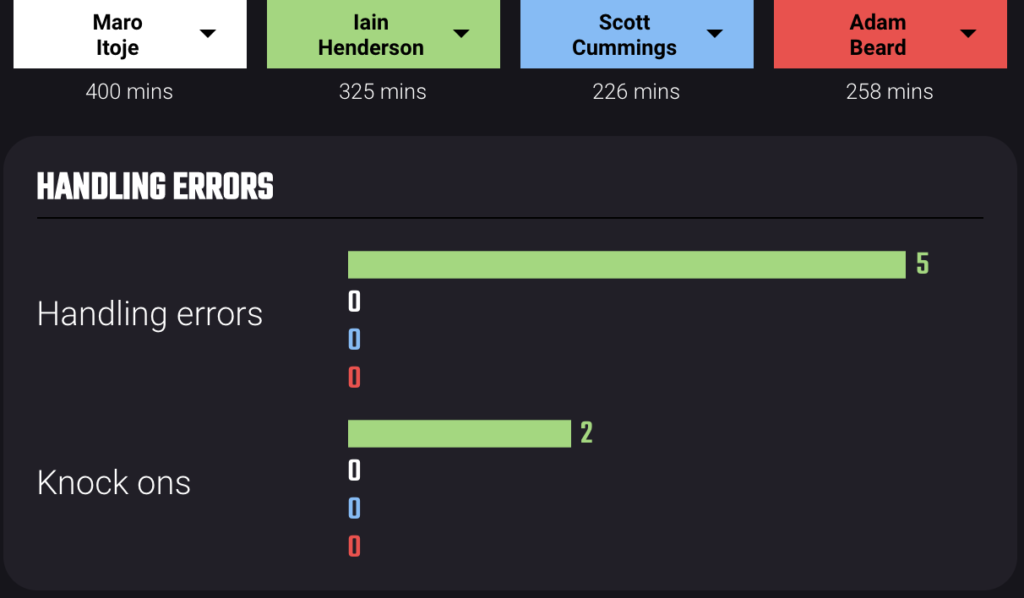 Despite the high number of penalties, Itoje managed to avoid the sin bin throughout the tournament, as did the others at number 4.
[3] prop
Not much distance between Furlong and Sinckler
As was the case in every forward position, bar number 4, it was the Welshman who made more tackles than the others, with Tomas Francis making 59 and missing 6.
Kyle Sinckler and Tadhg Furlong made considerably less tackles with 29 and 24 each respectively, both missing 4. Zander Fagerson made only 18 tackles but didn't miss any.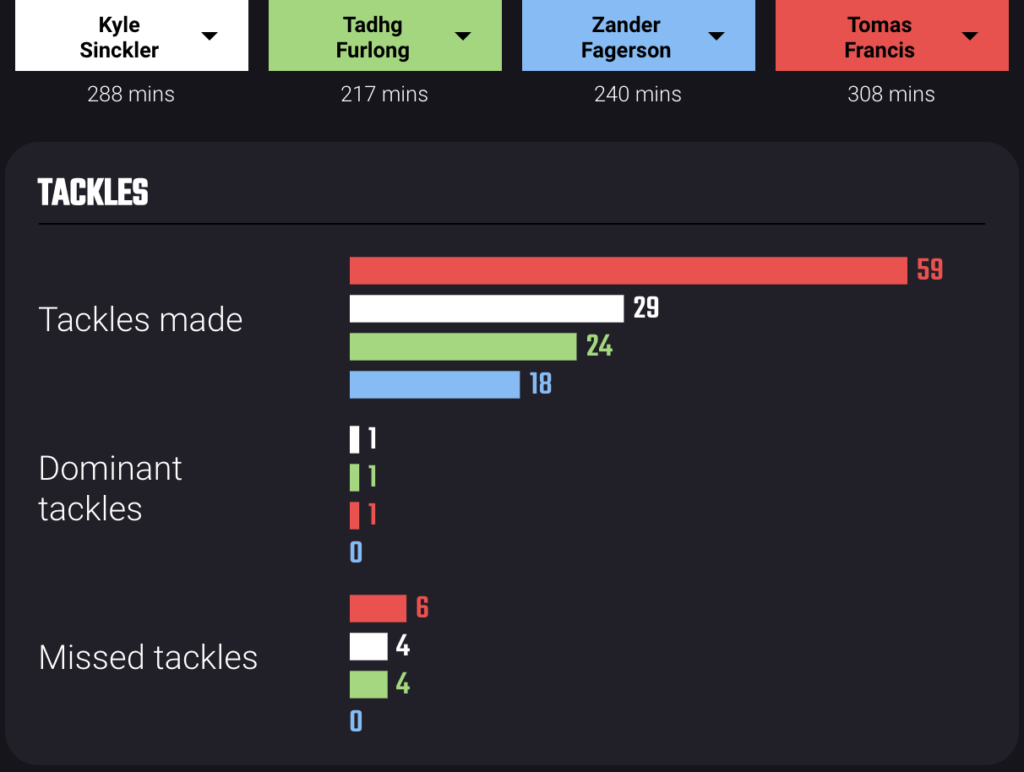 The Scotsman, Englishman and Irishman made similar amounts of ground with Fagerson making 159 metres, Furlong 138 and Sinckler 130. Francis made only 33.
Furlong showed greater strength in breaking the tackle, making it through the opposition's clutches on 5 occasions, whereas Sinckler only broke free once.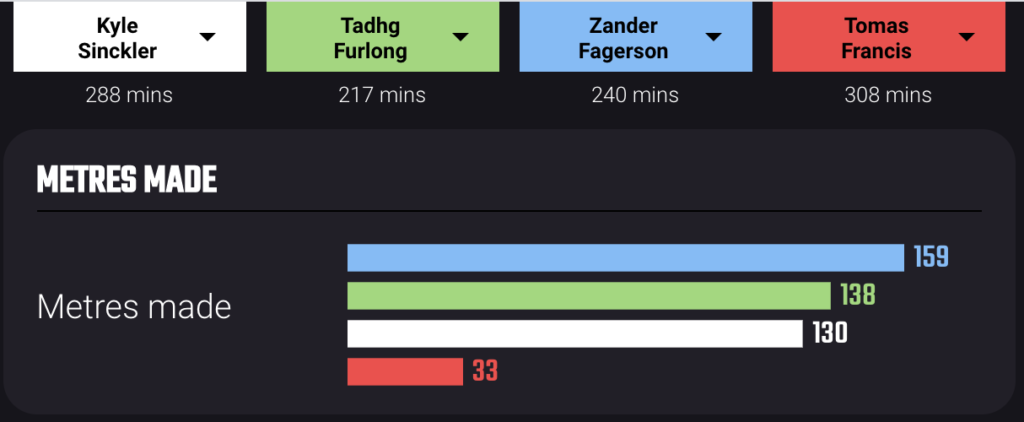 Sinckler showed a little less poise on the ball, making 4 handling errors to Furlong's 1.

Both Sinckler and Furlong showed similar discipline, picking up only 2 and 3 penalties respectively. And both performed well in the scrum, with Sinckler conceding 1 penalty and Furlong none.
Fagerson likely knocks himself out of contention here, being penalised in the scrum 5 times.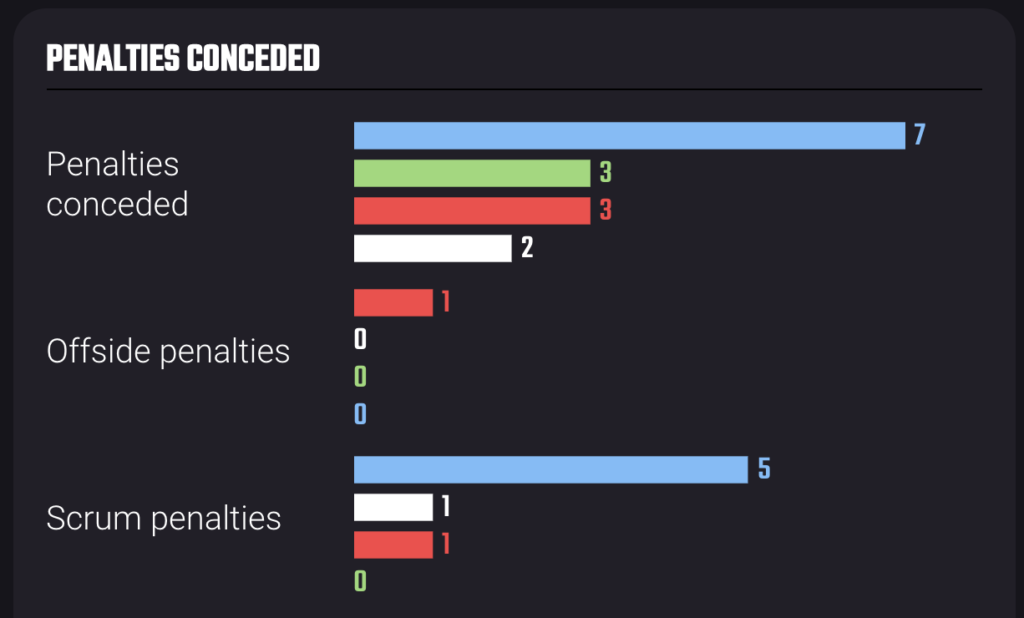 [2] hooker
Jamie George gives little away
In 194 minutes of play, Jamie George made 0 handling errors, 0 knock ons, conceded 0 turnovers, missed 1 tackle and conceded only 1 penalty.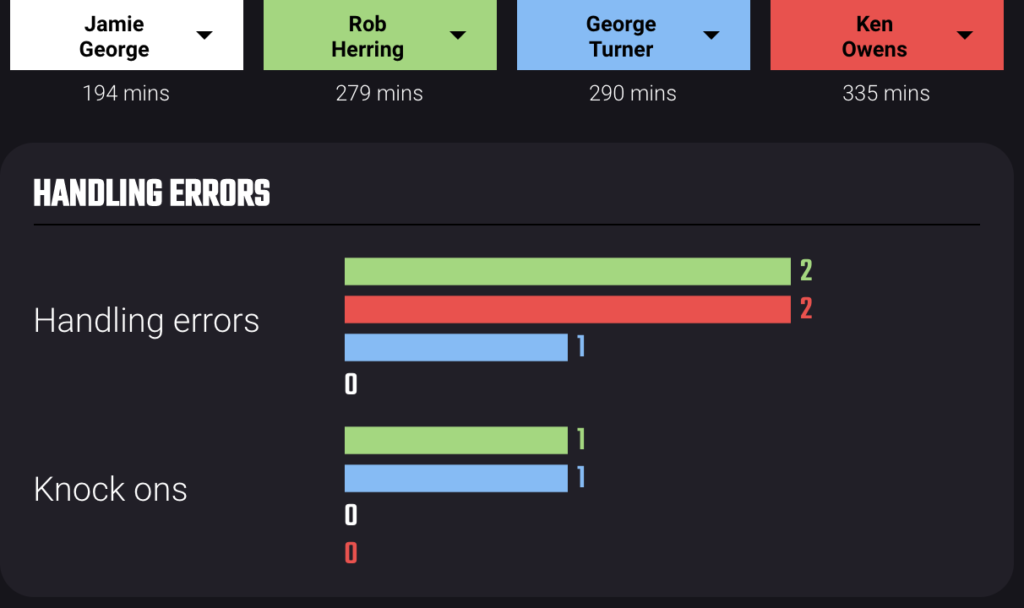 Luke Cowan-Dickie fared similarly well with 0 handling errors, 0 knock ons, and conceding 0 turnovers. But he did gift the opposition 4 penalties and missed 3 tackles – not a huge amount overall, but it's 5 more mistakes than his English teammate.
George showed less threat in attack this year, making only 12 carries and 47 metres, and not breaking a single tackle. Whereas, Cowan-Dickie made 124 metres from 28 carries and broke through 5 attempts to stop him.
Ken Owens carried the ball 37 times, making 175 metres and breaking the tackle twice.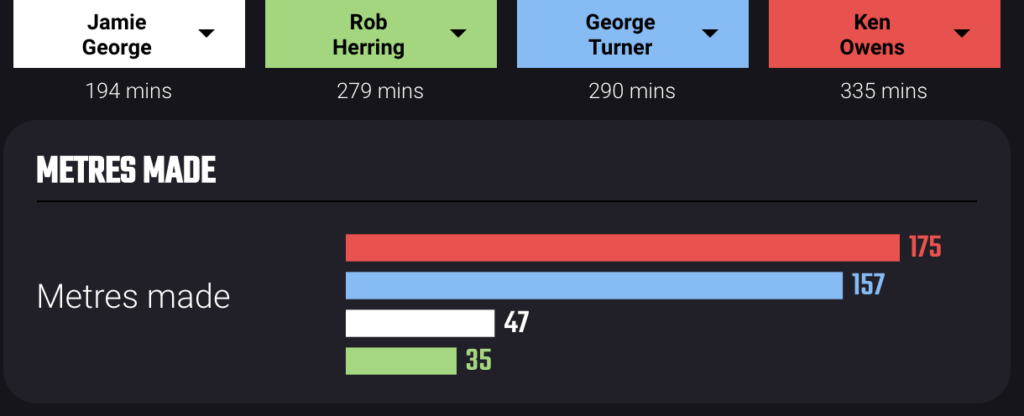 Owens was the only regular starter at hooker to get on the scoreboard, and did so twice.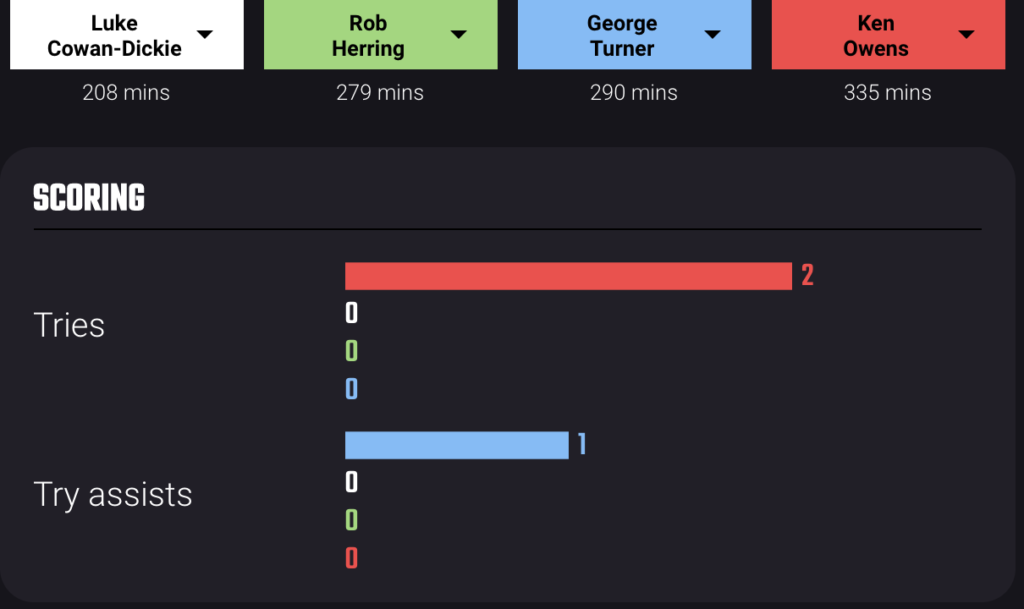 It was the subs that scored more often for the other countries, with Ireland's Ronan Kelleher touching down once, and Scotland's Dave Cherry managing 3 tries in 112 minutes on the field.
Only 3 players scored more than Cherry in the tournament and they were all wingers – Anthony Watson, Louis Rees-Zammit and Duhan van der Merwe.
George didn't get over the line this time, but he did set up 2.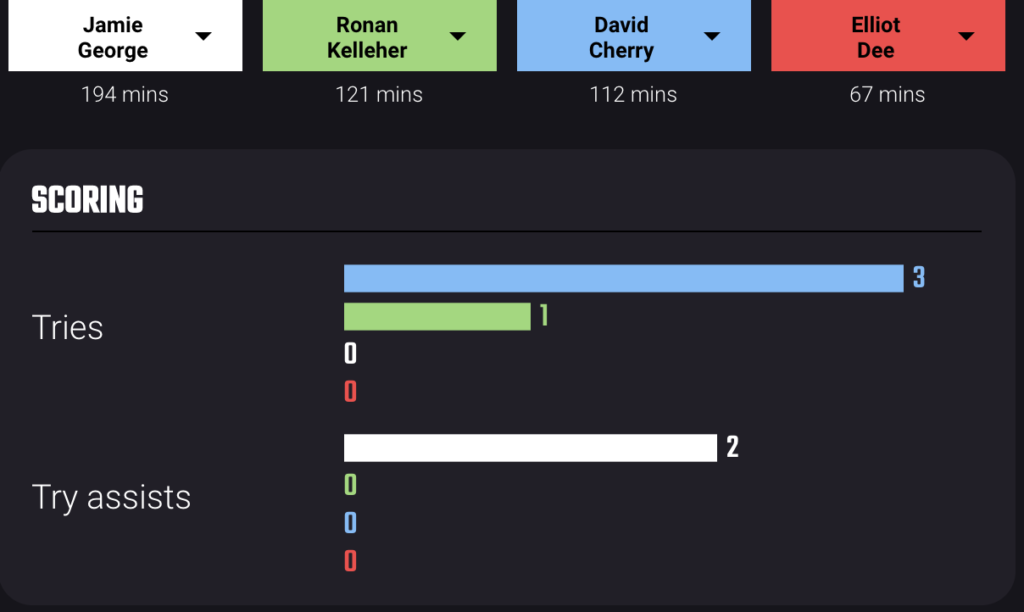 [1] prop
Tight competition for loosehead prop
Wyn Jones played more than the other looseheads, clocking up 341 minutes to Rory Sutherland's 296, Cian Healy's 256 and Mako Vunipola's 222.
But even accounting for time on the field, the Welshman made more than double the metres Vunipola and Healy did, making 174 metres over the gain line, while the Englishman and Irishman only made 82 and 51 metres respectively, while Sutherland made 123.

Vunipola broke through 4 tackles and Healy 3, while Sutherland and Jones only did so once.
The Welshman was handier in the offload though, managing to get the ball away 3 times, compared with once for Vunipola and no such handiwork from the Irishman and the Scot.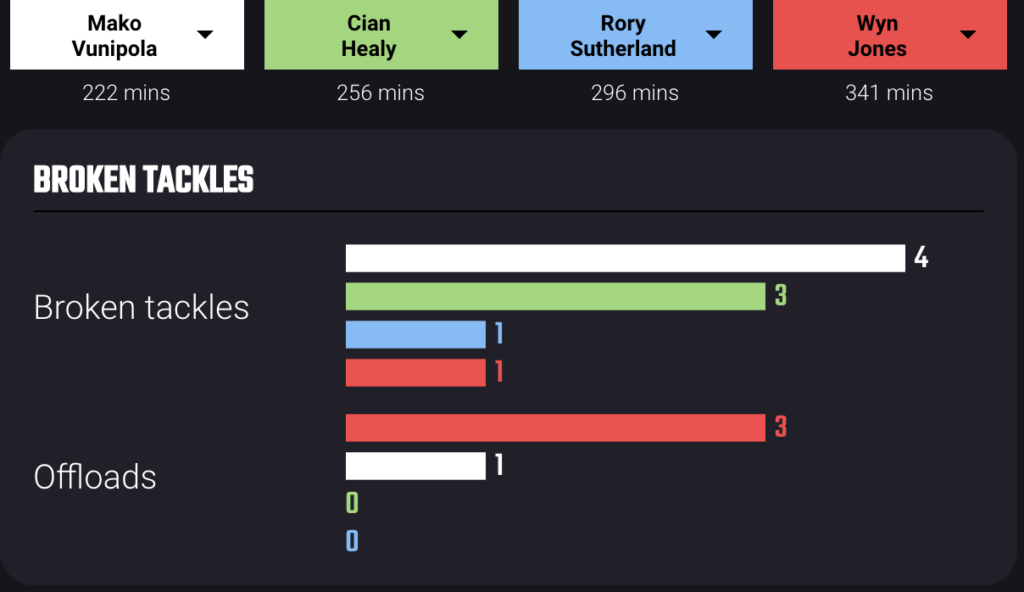 Jones made an impressive 47 tackles, but missed 7 (13%).
Healy made 27 but missed 25% of his tackles, letting the opposition through on 9 occasions.
Sutherland was most consistent in the tackle, making 28 and missing none.
Vunipola showed the most strength in the tackle, driving back his opponent on 4 occasions, and missing only 3.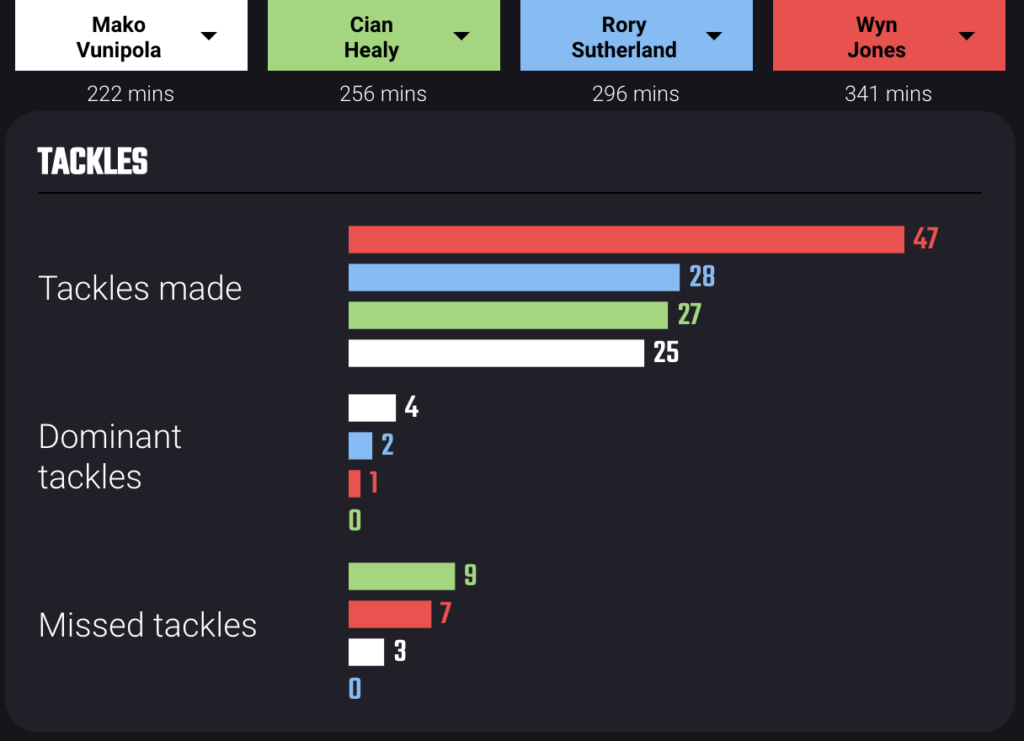 Vunipola only conceded 1 turnover compared with 3 a piece for Sutherland and Jones, and 2 for Healy.

Healy offers a safe pair of hands, with no handling errors and no knock ons in 256 minutes of play. Sutherland was close with only 1 handling error and no knock ons. But Vunipola looked a little less certain with 3 errors and 1 knock on.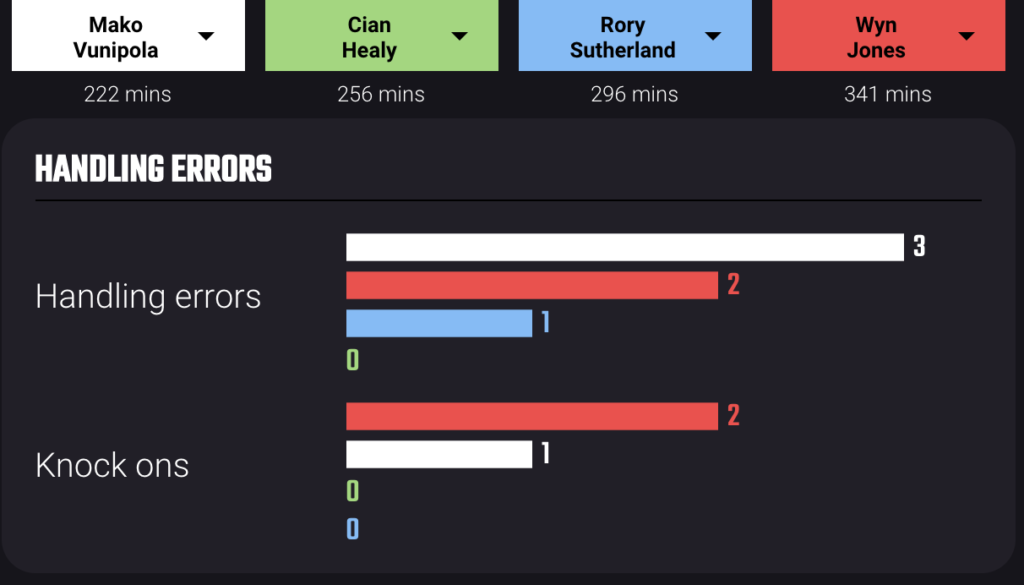 Discipline was an issue for Vunipola, giving away 9 penalties. Wyn Jones gave away the same, whereas Healy and Sutherland kept it cleaner, conceding 4 and 2 respectively.
The Irishman and the Scot kept it steadier in the scrum, giving away only 1 penalty a piece, while Wyn Jones gave away 5 and Vunipola 4.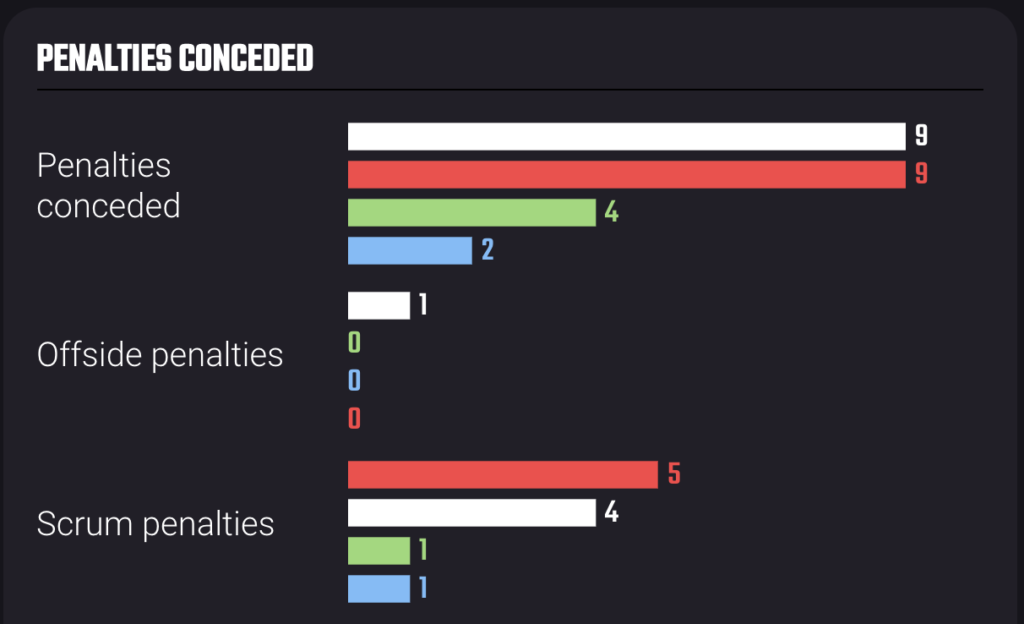 [9] scrum half
From 14 carries, Ben Youngs managed to break through 5 tackles, make 124 metres and score 2 tries.
By comparison, Ali Price made 21 carries, broke 2 tackles, and made only 75 metres. The Scot didn't get on the scoreboard himself but did make 3 assists.
Even though he was only on the pitch less than half the time that Youngs and Price were, Conor Murray still made only 5 carries for 14 metres and didn't break a single tackle.
Gareth Davies made only 30 metres and didn't break a tackle, but did set up 2 tries.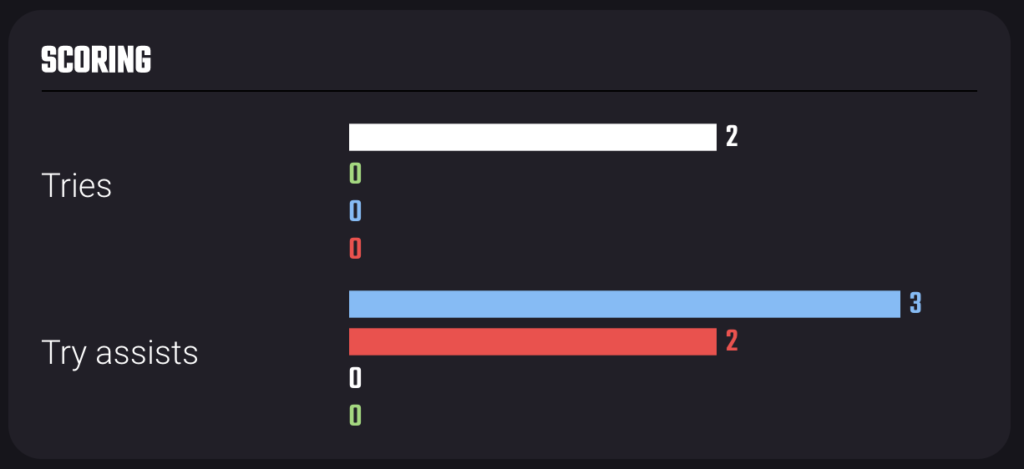 Murray's kicking game was on point though, making 579 metres in 149 minutes on the field – compared to 766 metres from Price in 335 minutes, and 798 metres from Youngs in 331 minutes.
Davies led the field here, kicking for 892 metres in 205 minutes of play.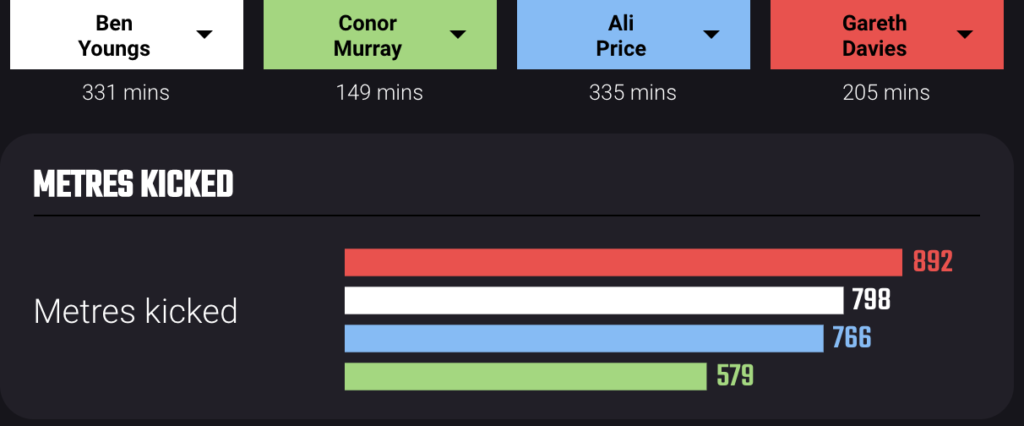 The Scotsman recycled the ball considerably more than his counterparts, making 347 passes in the tournament. But Murray actually pips him when you take time on the field into account, making 170 passes in 149 minutes of play.

Price looked like the steadiest pair of hands with 9 handling errors compared with 7 from Murray in less than half the time, 12 from Youngs and 13 from Davies. Murray and Price made no knock ons, while Youngs made 2 and Davies 1.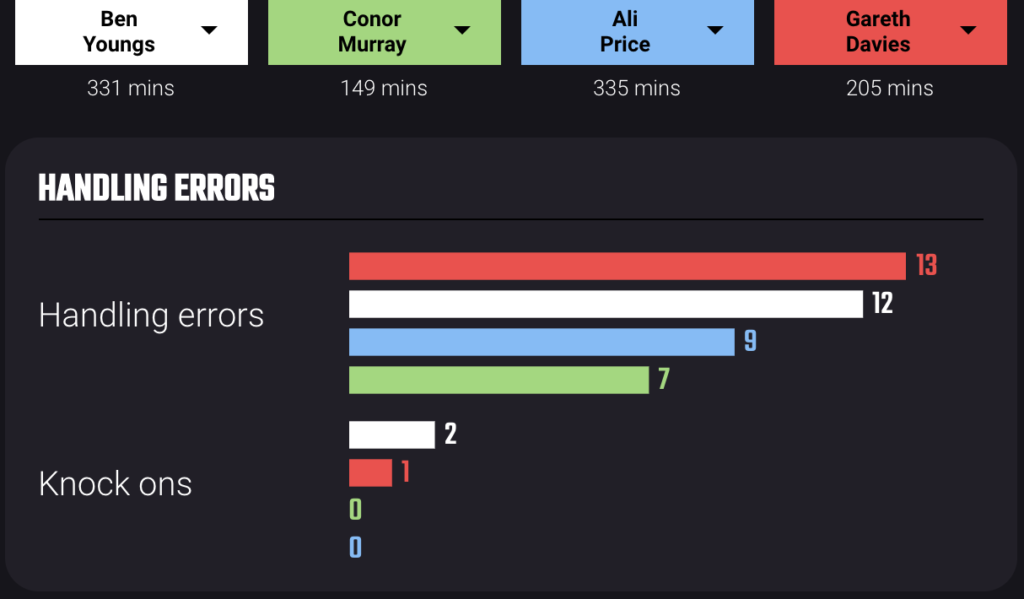 Price looked more steady in defence too. Davies missed 9 (36%) of his tackles and Youngs missed 7 (35%). While both Price and Murray only missed 2 tackles, which accounted for 8.7% of Price's tackles and 20% of Murray's.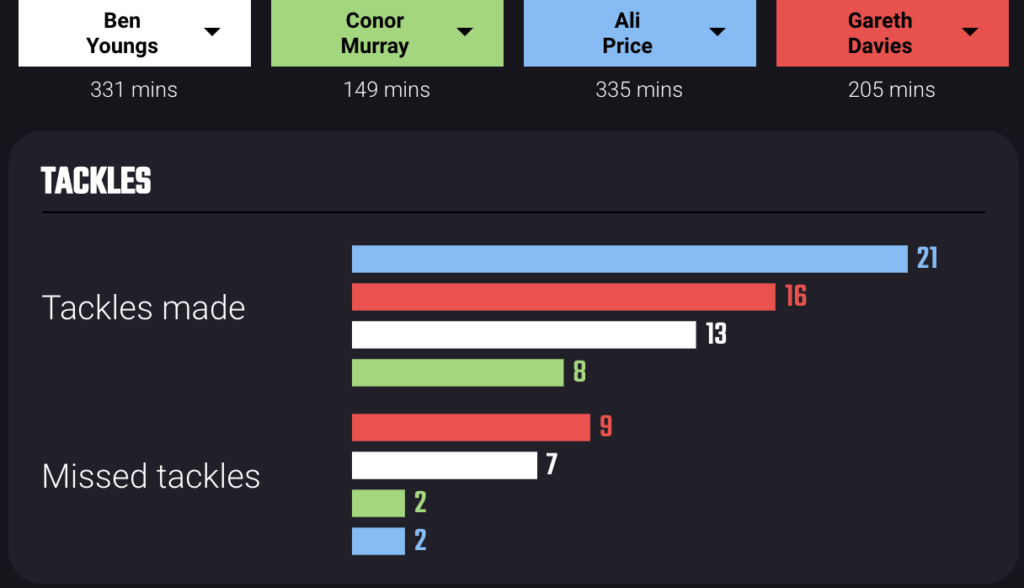 Murray and Davies were less susceptible to turnovers, only conceding 1 each, whereas Youngs was turned over 6 times and Price 4.
Youngs was the most disciplined scrum half, giving away no penalties in the whole tournament, while Murray, Price and Davies gave away 3 each – although Price did play 130 minutes more than Davies and 186 more than Murray.

[10] fly half
Flamboyant Finn might Russell up magic, but could he give the game away?
Finn Russell opted for the boot more often than the other fly halves, only playing the ball from hand 92 times compared with 111 plays from Johnny Sexton, 119 from Dan Biggar and 125 from George Ford.
Owen Farrell played the ball from hand 80 times, but his stats aren't totally comparable as he started 4 games at 12 and only 1 at 10.

Russell's kicking made 1239 metres for the Scots, with Ford making 1156, both making more ground via the boot than Biggar and Sexton at 701 and 678 metres respectively.

Playmaker Russell made 147 metres from 22 carries, breaking 5 tackles and managing to offload on 6 occasions.
Sexton, with one more carry than Russell, made 28 less metres, broke 3 less tackles and offloaded 4 less times.
Biggar also broke free of more tackles than Sexton, matching Russell's 5, but with half the number of offloads as the Scot.
Ford fared well in attack, breaking 4 tackles, but the offload wasn't a feature of his game.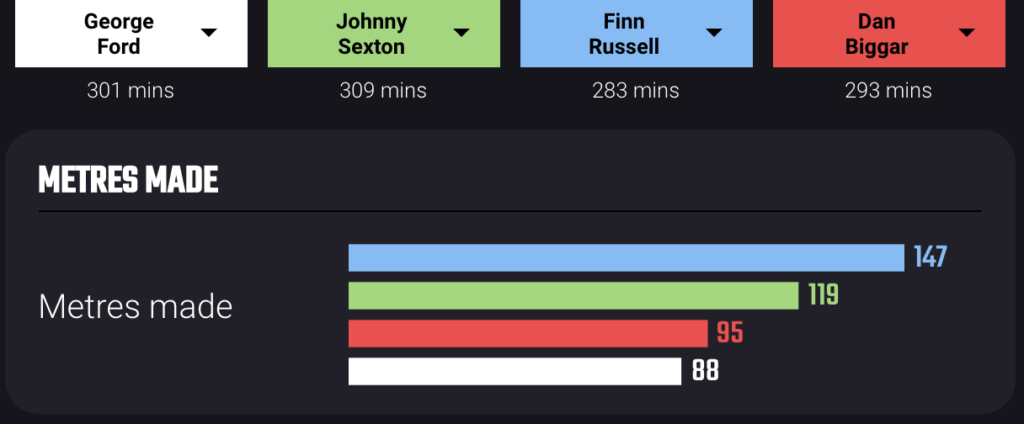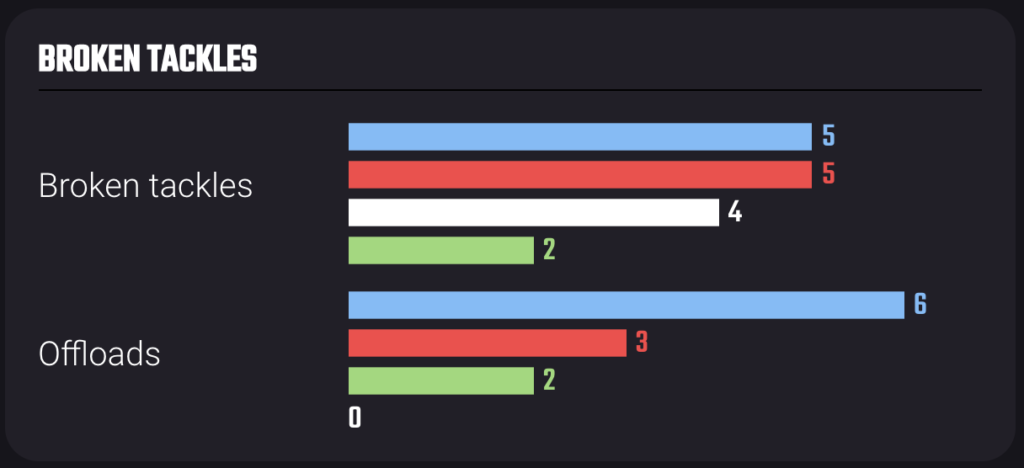 Russell's discipline does raise some questions, with 9 handling errors, 2 knock ons, 8 missed tackles, 10 turnovers conceded, 3 penalties, 1 yellow card and 1 red – all of which are higher than his opposite numbers.
Sexton offers a steadier hand and a cooler head, with only 4 handling errors, 0 knock ons, 4 missed tackles, 4 turnovers conceded, 2 penalties and 0 cards received.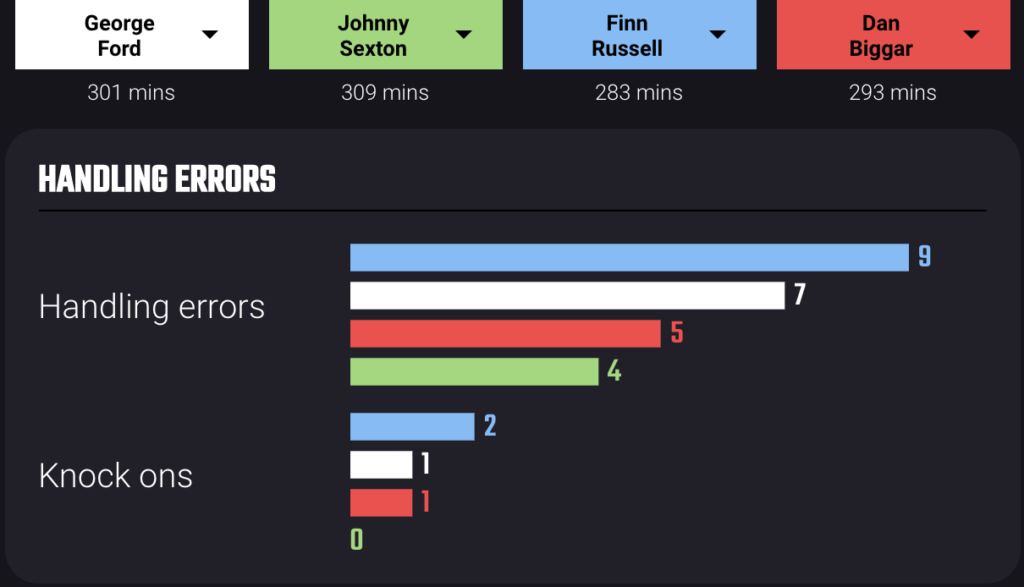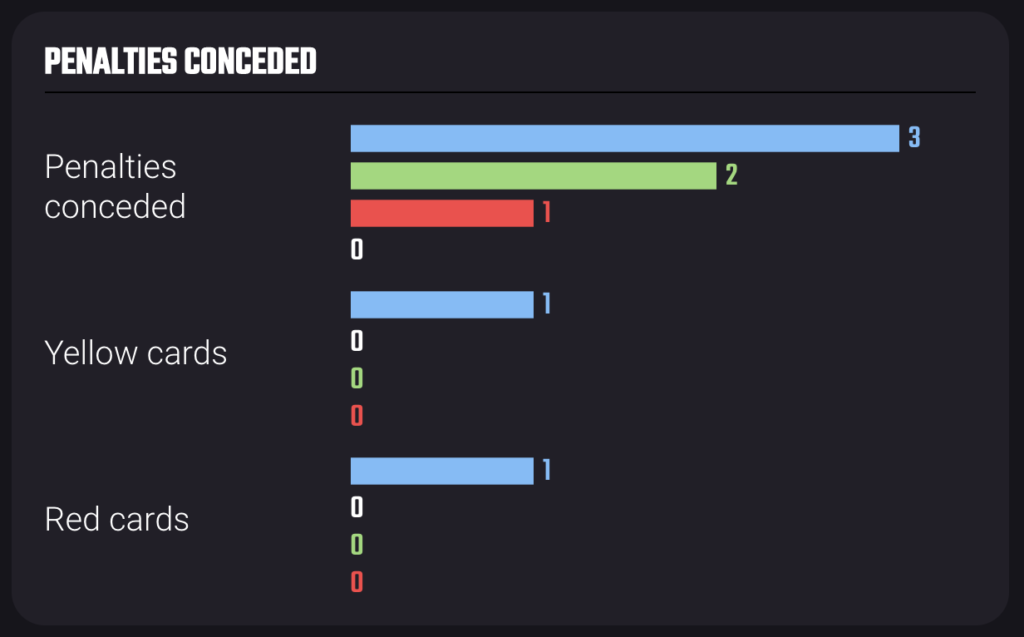 Sexton was steadier from the tee as well, slotting the ball between the posts more than any other player in the tournament, with 10 conversions and 15 penalties. Farrell successfully kicked for points 19 times, with Biggar doing so 13 times and Russell 12.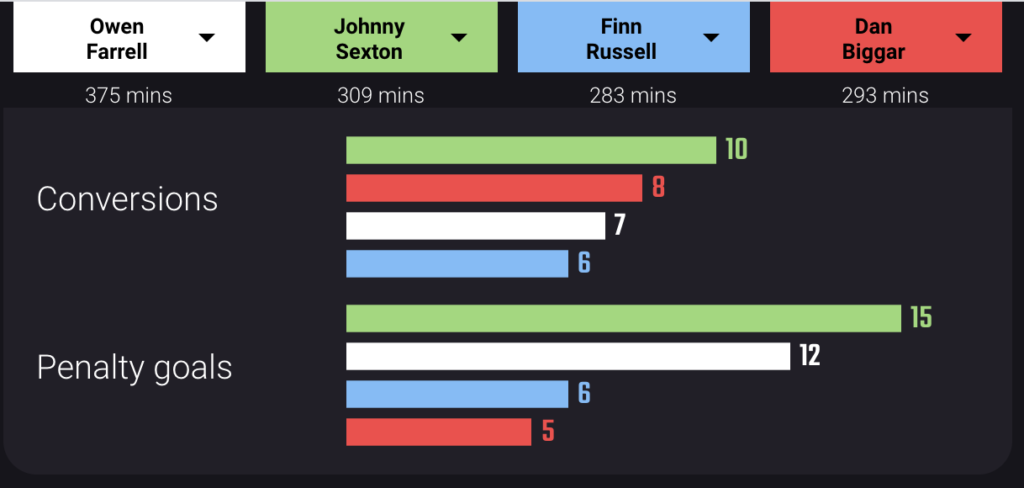 [12] centre
While many hope for Manu, who will fill in at centre?
Manu Tuilagi missed this year's Six Nations due to injury but fans hope he'll be fit for duty.
Robbie Henshaw looks powerful in attack with 65 carries and 318 metres made, compared to Owen Farrell's 25 carries for 179 metres. Sam Johnson and Jonathan Davies made 18 carries each for 120 and 134 metres respectively, in about half the time that Henshaw played.


Henshaw broke the tackle 8 times and handed the ball off 3 times, while Johnson broke an impressive 12 tackles.
Davies only broke through once and handed off twice, with Farrell doing well, breaking 7 tackles and offloading 4 times.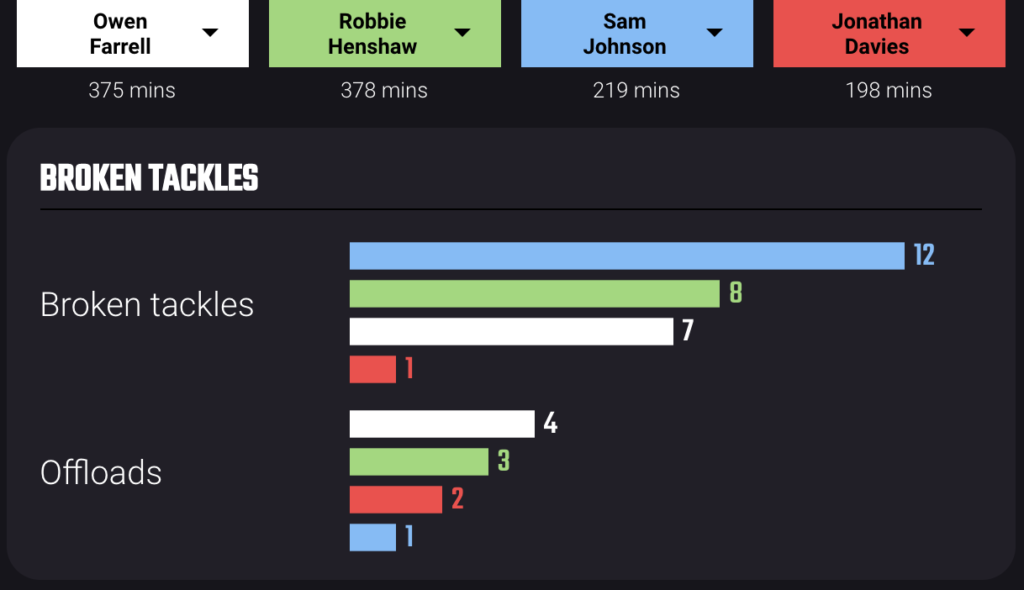 Farrell looked a little unsteady with 6 handling errors and 3 knock ons, while Henshaw made only 1 handling error and Davies made 4. Johnson also kept it tight with just 2 errors and 1 knock on.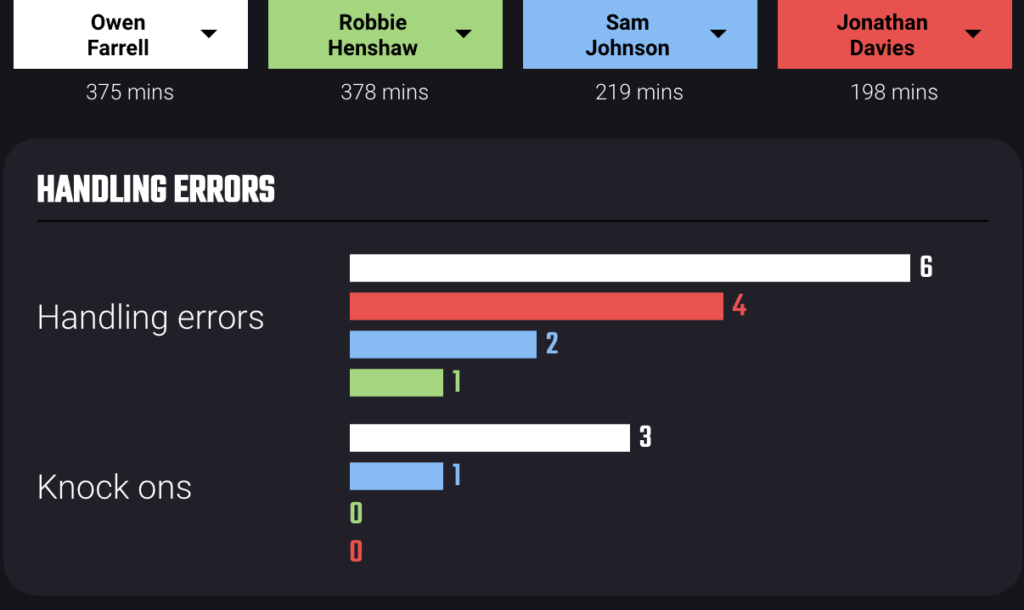 Davies looked more reliable in defence, only letting the man get by him twice, compared with 5 missed tackles from Johnson, 7 from Henshaw and 8 from Farrell.

Henshaw looked stronger in the turnover, winning 2, another 3 in the tackle and conceding only 1. Farrell, by comparison won 1, a further 2 in the tackle, but conceded as many as he gained.
Johnson didn't win any turnovers and gave away 2.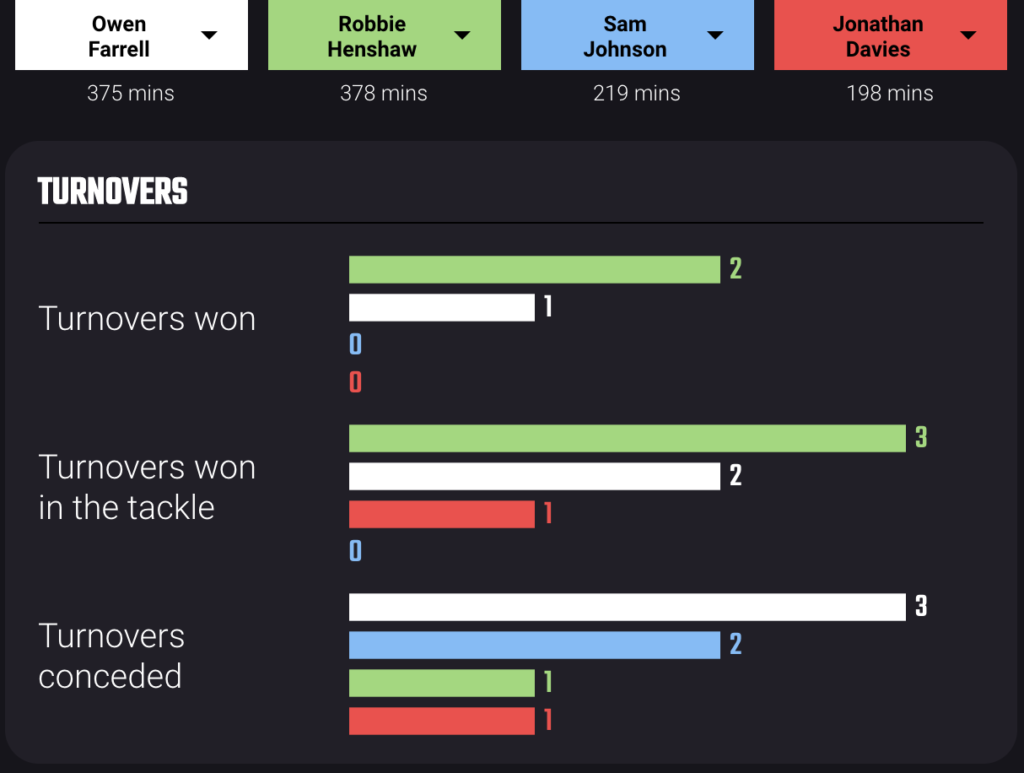 Three of the regular starters at 12 offer a creative option at the lineout, with Johnson coming in behind the forwards twice, and Farrell and Henshaw pulling off the same move once. Scotland's Cameron Redpath also collected from the lineout in his only game of the tournament
It's a popular move from Lions attack coach, Gregor Townsend, so you can look out for this one in the summer.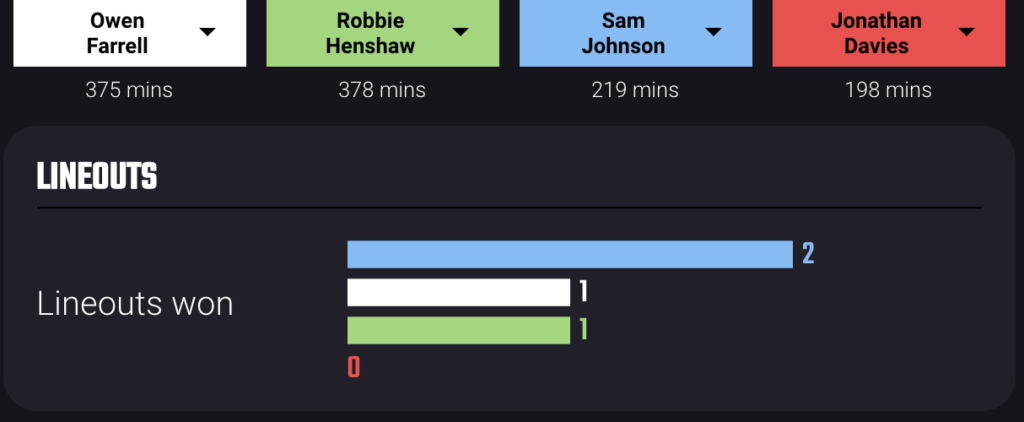 [13] centre
With no true North, will the needle shift to Ringrose?
With George North out injured, Garry Ringrose looks the most obvious choice from the Six Nations' outside centres.
North and Ringrose lead the stats in attack, with North making 335 metres over 37 carries, and Ringrose inching ahead with 359 metres over 44 carries.


Ringrose broke through 12 tackles and offloaded 3 times, with North close behind with 10 and 2.
Henry Slade only broke free of the opposition's grasp 3 times but never got the ball away in the tackle.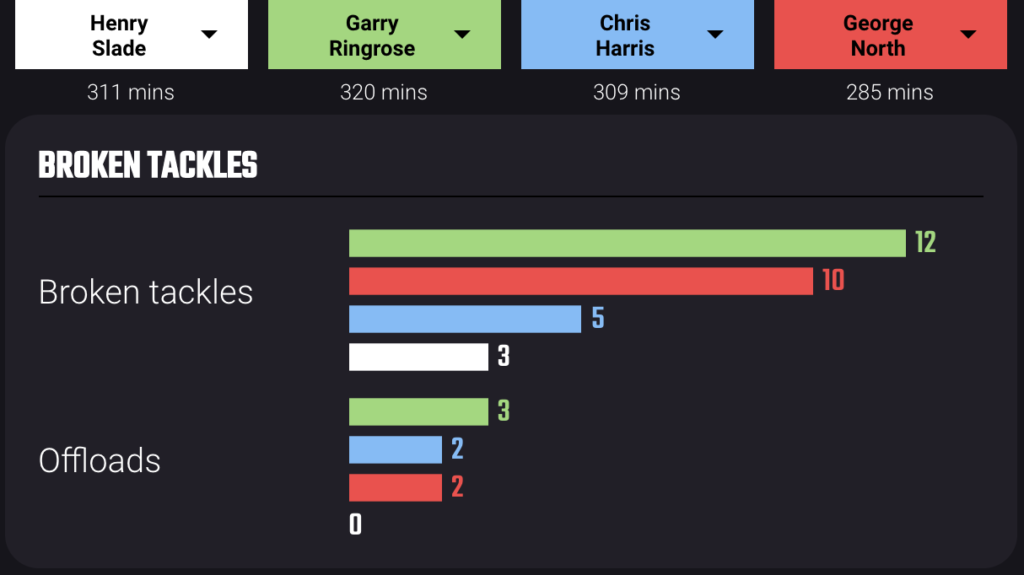 North looked strongest in the tackle with 34 made and only 3 (8%) missed. Ringrose made almost half the amount of tackles with 18, while missing double with 6 (25%). Slade missed double that amount again with 12 (32%) of his tackles being shrugged off by his opponents.
Ringrose looked vulnerable at times, with 5 handling errors and 6 turnovers conceded, whereas North and Slade picked up 3 of each.


Chris Harris looks steady on some fronts with only 1 turnover conceded and 4 missed tackles, but the Scotsman gave away 5 penalties, and showed considerably less in attack than his Irish and Welsh counterparts.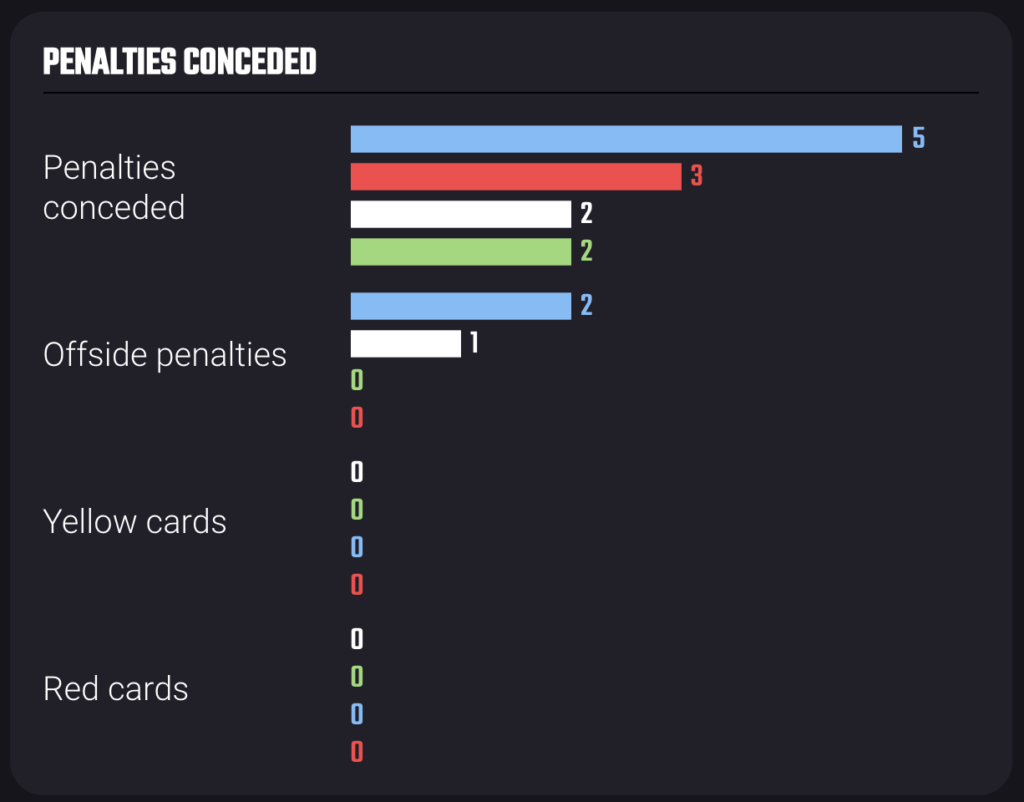 [11] & [14] wing
Could the rookies take to the wing?
It was an impressive performance for Louis Rees-Zammit's first Six Nations, and Duhan van der Merwe's first full tournament, having clocked up just 15 minutes the previous year.
Both players played the full 400 minutes in 2021, and topped the scoreboard with 5 tries for van der Merwe and 4 for Rees-Zammit.
Anthony Watson tied with the Welshman in second place, also with 4 tries. And Rees-Zammit set up another 2 scores for his team.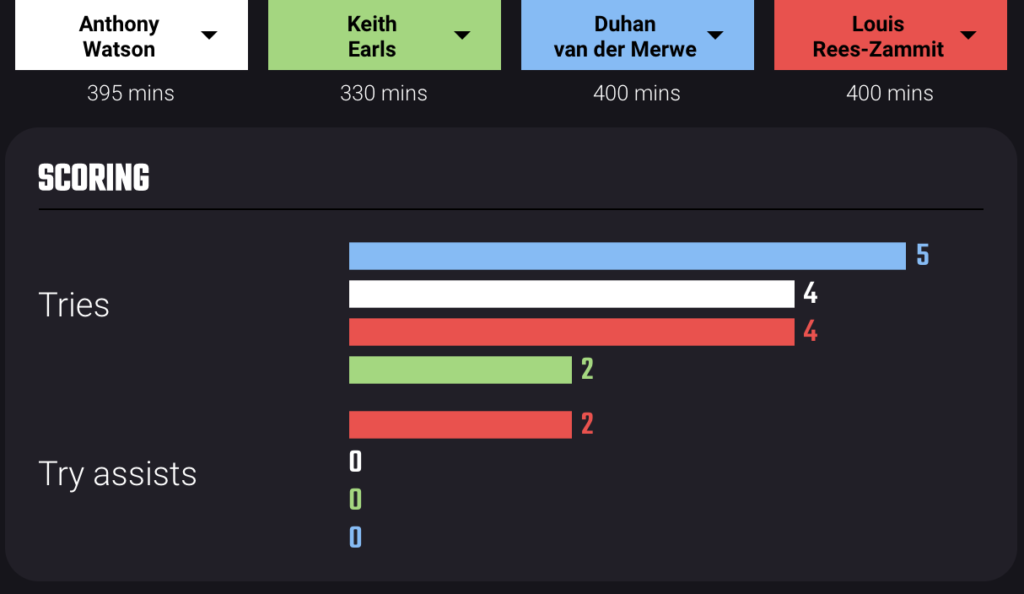 Rees-Zammit showed a little more variety to his game, with 383 metres kicked to Watson's 105 and van der Merwe's 79.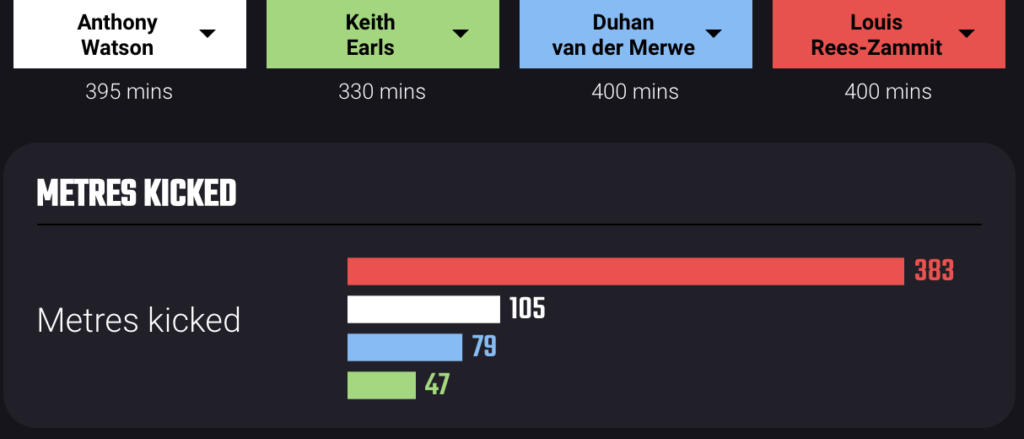 van der Merwe proved powerful in attack, with 474 metres made from 44 carries. Rees-Zammit was next closest with 351 metres from 27 carries and Watson was close by with 296 metres from 26.


van der Merwe showed his strength once more, breaking free of the tackle 32 times, leaving everyone else in the tournament for dust. Stuart Hogg was the next closest, breaking through 20 tackles. And the closest on the wing was Watson leaving 13 would-be tacklers in his wake.
Rees-Zammit only broke through 6 tackles, but he did still score as many tries as Watson.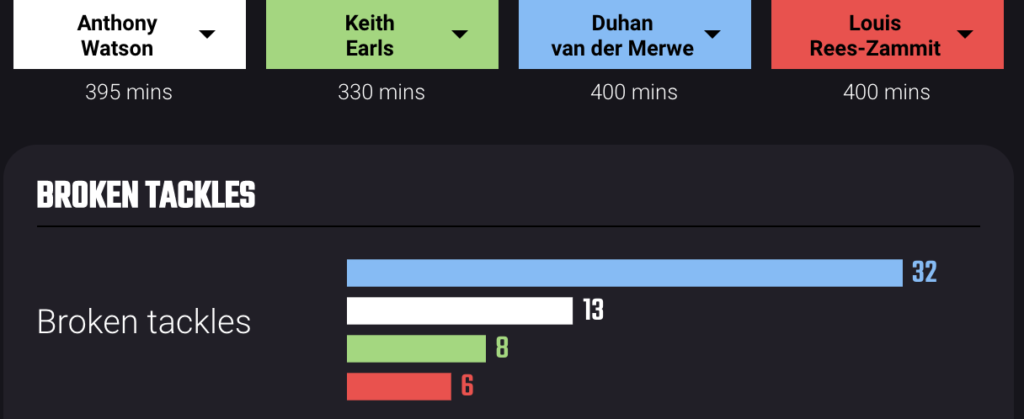 The wingers showed comparable handling of the ball, with the Englishman and the South African-born Scot making 4 errors to the Welshman's 3. And van der Merwe made 2 knock ons while the others made only 1.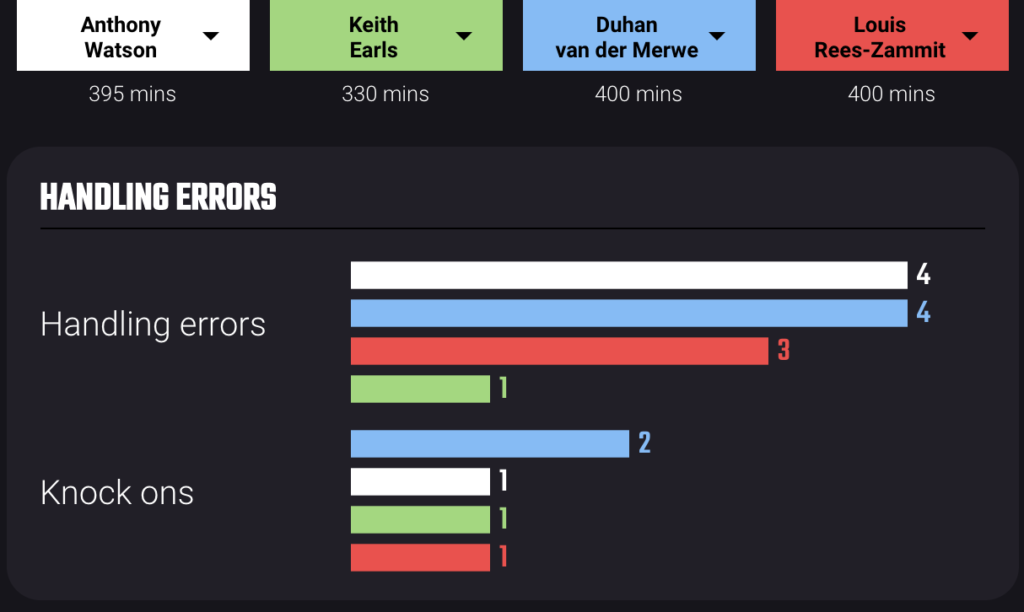 Rees-Zammit was involved more in defence, making 28 tackles, but also missing 9 (24%). Watson made 15 and missed 7 (31%) while van der Merwe made 13 and missed 3 (19%).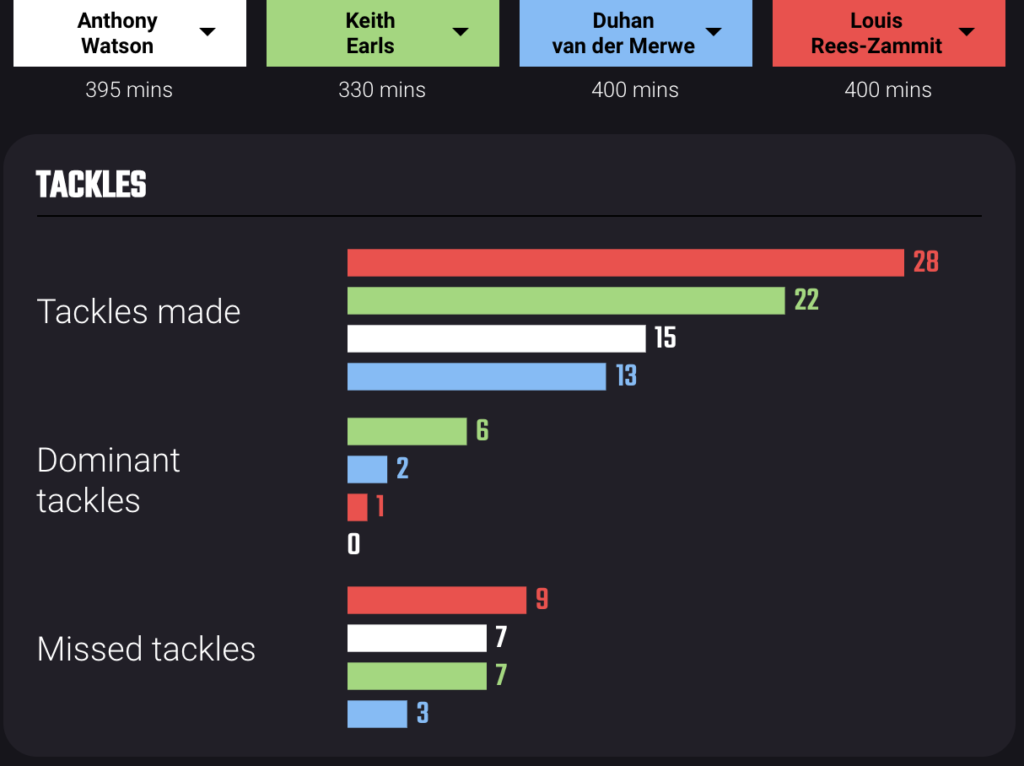 Rees-Zammit was a little harder to turn over than the others, conceding only 3 times to Watson and van der Merwe's 5.

Watson was supremely disciplined, not giving away a single penalty, while Rees-Zammit and van der Merwe generally kept their cool, only conceding 1 a piece.

[15] full back
A show of strength from Hogg
Stuart Hogg broke through 20 tackles in this year's Six Nations, while Elliot Daly broke through 13, but he did play an hour less than the Scot.
Even when he was stopped in the tackle, Hogg managed to offload 7 times, while Daly got the ball away on 3 occasions.
In 313 minutes, Liam Williams only broke through 4 tackles, with no offloads.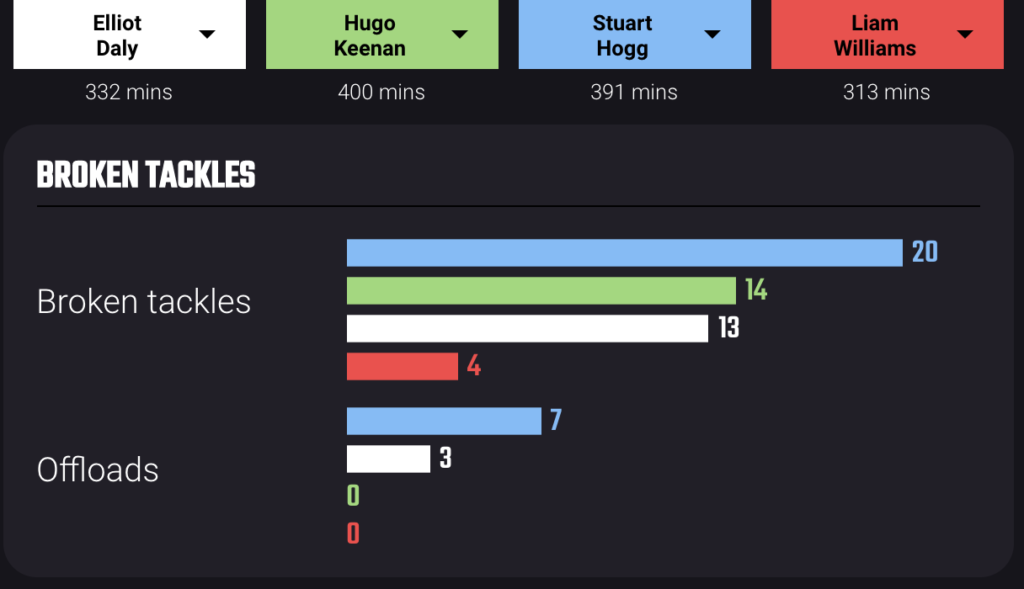 Hogg made 440 metres in 400 minutes, while Daly made 435 metres in 332 minutes.

Hogg made considerably more kicks and passes, and played the ball by hand more too. But he did start one game at 10 instead of 15, which will be skewing the stats there.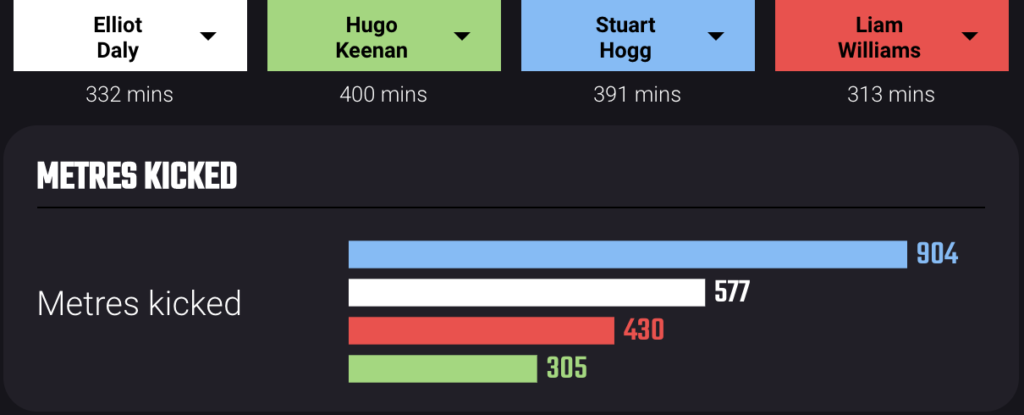 Hogg scored twice and set up 2, while Williams scored twice and set up 1, and Daly scored and set up one.
Hogg looked solid in defence with 13 tackles, missing only 2. While the other full backs made less tackles and missed double the amount Hogg did. Daly only made 5 tackles and missed 4. Davies fared better percentage-wise, missing 4 and making 11.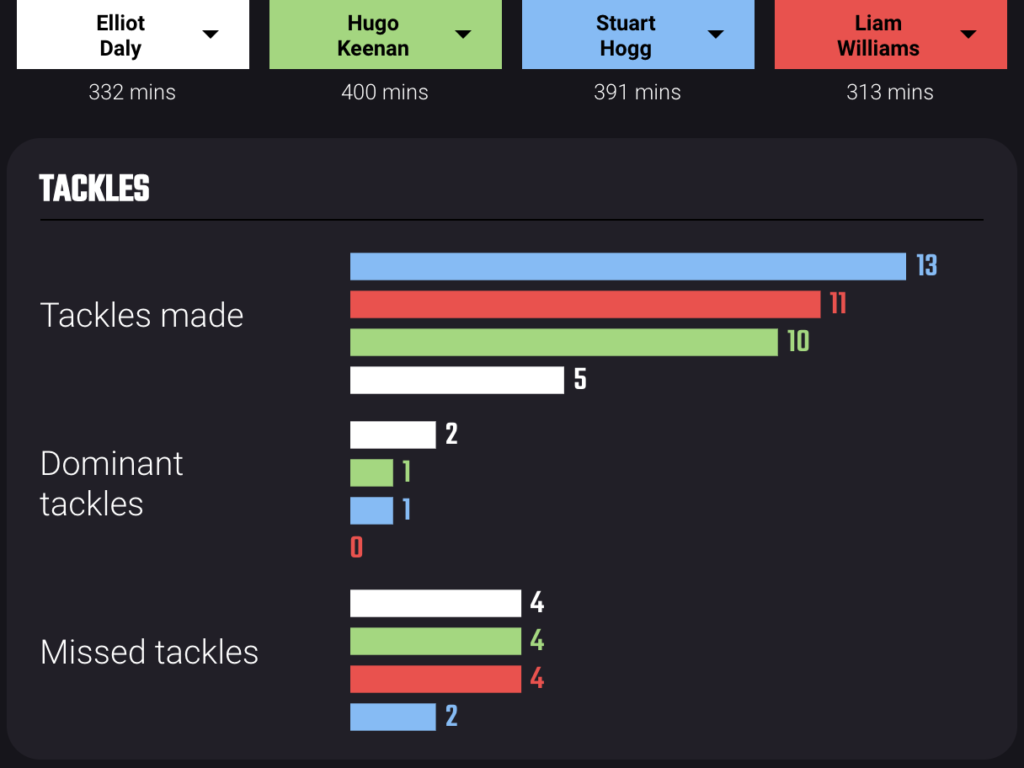 Hogg showed his strength once more, not conceding a single turnover in the Six Nations, whereas the opposition picked the ball from Daly on 6 occasions and Williams 4.

There were glimpses of ill-discipline from Hogg, giving away 5 penalties to Davies' 2 and Daly's 1. And both the Scotsman and Welshman spent 10 minutes in the sin bin, leaving their side a man down on the field.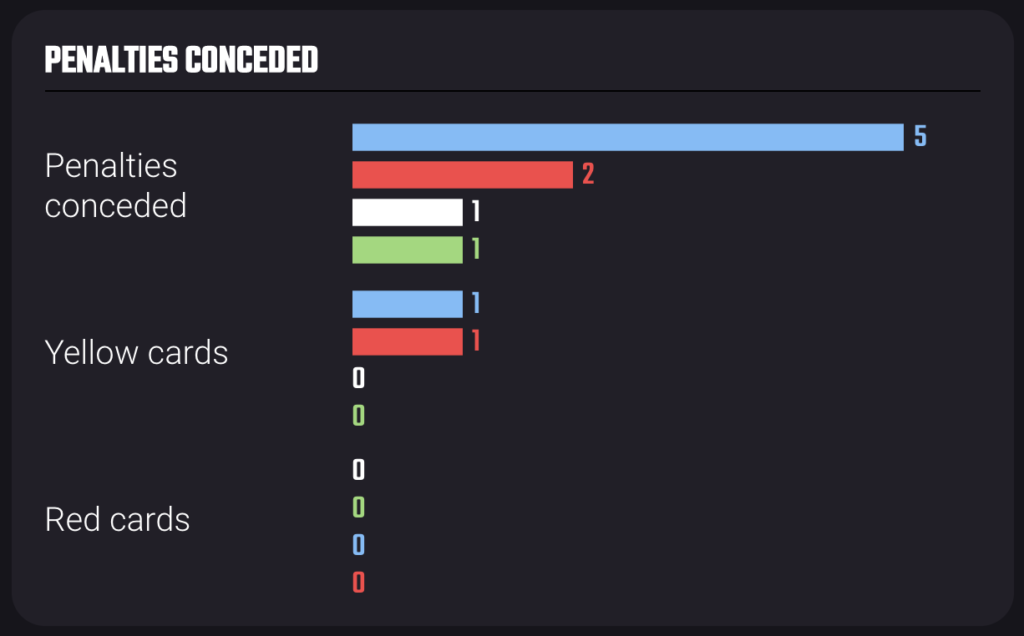 Methodology
Source: Six Nations Rugby Statistics 2021
The default players in each shirt number were determined by the number of starts in that position and number of minutes played in the 2021 Six Nations. Data on starting positions and substitutions were gathered from match reports on the official sites for England, Ireland, Scotland and Wales.
Starting positions were also cross-referenced with the stated position in the team squads for England, Ireland, Scotland and Wales, to identify players who were playing out of position and those that can fill a number of roles.
After gathering user feedback on the tool, we created the ability to swap in players who play in interchangeable positions, which we took to be:
Second row and back row – 4, 5, 6, 7, 8
Fly half and centres – 10, 12, 13
Wings and full back – 11, 14, 15
We did not take loosehead prop (1), hooker (2), tighthead prop (3), or scrum half (9) to be interchangeable with other positions.